Blex's 2013 Green Bay Packer Review
A personal blog/review of each Packer Game during the 2013 season.
---
In 2010, I decided to make a page that week by week listed my thoughts about each Packer game. It was a lost easier to do that than post a bunch of crap on facebook that explained my thoughts about each game. Plus, if you haven't noticed, I like to preserve my writings on the internet for historical preservation purposes !!! The 2010 page got probably 3-5 hits a week from friends and after the Packers won the Super Bowl, hits declined to the rate they are today of about 3-5 a year tops !!!

In 2011 and 2012, while I was in Graduate School at UWM working on my masters in history, I had to write a bunch of research papers (check them out if you want, you're life will never be the same after reading) and as a result, to the disappointment of billions across the world, I didn't write a weekly review. But now, even through I'm still taking post-grad classes, I resurrected this page anyway because it is

NO COINCIDENCE

that the past two years the Packers didn't win the Super Bowl. Because this page is back, one can easily conclude that by doing a weekly review each week they will DEFINITELY win a championship again !!!

---
Jump To Week: 1, 2, 3, 4, 5, 6, 7, 8, 9, 10, 11, 12, 13, 14, 15, 16, 17, WC

---
Week 1: 9/8/2013, At 49ers - Loss 34-28



Phrase that sums everything up:

No surprises !!!



Summary & thoughts:

Going into the game I wasn't confident that we would win. But, when the game was close I started to think "hey, maybe we'll win!" Like many Packer fans the reason I wasn't confident was because of one word - DEFENSE !!! After being eliminated from the playoffs two years in a row (and in beyond embarrassing fashion last year), it doesn't take an idiot to realize that Dom Capers job was in jeopardy when the season ended. Yet, he was kept around for another year. I'll admit, injuries were a problem last year, but as 2010 showed they are not an excuse for piss poor play. In the NFL, everybody gets injured, it's so bad that the team we saw Sunday will not be even close to the same as the team we see come December. In baseball injuries can ruin a season and in my mind they ARE a legitimate excuse because baseball is a more individualistic sport where the role of a coaching scheme has little influence on how the game ends up. In the NFL, however, a good scheme, putting players in the right position to make plays, X's and O's, match ups, and play design can minimize a teams weaknesses. For example, the offensive line in 2010 was shitty but adjustments and new wrinkles were thrown in to minimize their shortcomings.

Anyway, back to the game, the offense was once again excellent. But, of course, the running game sucked! Every time Eddie Lacy took a hand off I was reminded of the QB from the most underrated sports movie of all time

Necessary Roughness

! In it, the QB took the snap and within seconds he was sacked by the entire defensive line at once! If I've said it once I've said it a million times, but the NFL is a passing league! The pass to me is used best to setup the run. It's no surprise that once we had success passing, the running game opened up. BUT, when it did open up, penalties were called at what seemed at times to be random on the offensive line. Josh Sitton had a bad game and the face-mask penalty and first holding calls I agreed with. But, the second holding against him was a piss poor call. The offensive line's pass protection was great. But their run blocking is pathetic and I don't expect it to get any better!

I back Mike McCarthy a lot but when the 49ers could have had 4th and 2 instead of 3rd and 7 there was no reason to accept the penalty! Make it fourth down for crying out loud. A bad decision yes, but not one that should leave fans calling for his head on a stick.

The biggest disappointment to me was the defense. Capers had all off season to prepare a game plan to stop the 49ers. Yeah, we stopped the run, but in the process, Capers decided to place NOBODY IN THE MIDDLE OF THE FIELD while playing the safeties two deep !!!

STUPID STUPID STUPID!

No surprise that the middle was used by the 49ers. You need balance on defense in stopping the run and the pass and if you don't you need turnovers (like 2010) to turn the tide of the game. We never got that big turnover and the drop by Finley that turned into an interception and fumble by Lacy doomed us to defeat.

So really, run offense = bad, pass offense = good, run defense = bad, pass defense = pathetic

.

NO SURPRISES THERE

!!!!!!



Player of the game:

Even though he had the late-hit penalty,

CLAY MATTHEWS

owned the game. I expect the offense to make plays and Aaron Rodgers is Aaron Rodgers, MVP play is expected and he didn't disappoint. But, without Clay Matthews the defense would have sucked even worse. We should be thankful only 34 points were allowed! It doesn't take an idiot to realize that every single play the 49ers had to account for Matthews and when he stuffed the RB and QB yards deep behind the line it was glorious to watch! Reminded me of when he came through in 2010 during the Cowboys game and flattened their FB within seconds of getting the hand off. The late hit? I DIDN'T MIND IT BUT IT CAME AT THE WRONG TIME. Sometimes you gotta set the tone and that's what a leader does, if it costs you 15 yards then so be it. But, doing it on third down while the other team is in the red zone is not a good time to do it!



Least valuable player of the game:

EASY - JERROD MCMILLAN !!! He pussied out on half the tackles he could have made and when he was in the position TO make a tackle he totally blew it!!! It made me miss Morgan Burnett and Casey Hayward who were hurt. Rather than setup up when a guy goes down McMillan stepped down. As much shit as he takes, Jerrod Bush I think would have been a better fill-in starter because, as evident by why he's in the game when the goal line personal group comes in, at least he TACKLES



Next week:

If you came here from FaceBook, you may realize that every Sunday I predict the Packers to lose when I post a status update. But here, in order to preserve tradition from 2010, I give an honest prediction !!! I've realized I've been saying "I'm gonna go ahead and call a ... " on twitter a lot lately. I like it that phrase so I'll use it here too! I'm gonna go ahead and call a

27-17 Packers win

. RGIII is still banged up (and overrated in my book) and I think if the defense stuffs the run the secondary will perform better (they can't get much worse).

---
Week 2: 9/15/2013, Vs Redskins - Win 38-20



Phrase that sums everything up:

FREAKY GOOD WIN !!!



Summary & thoughts:

I wasn't too concerned going into this game that the Packers would lose. I figured it would be close because the Redskins got beat last week by the Eagles but I was wrong. Mostly because the Redskins looked completely

AWFUL

!!! They had dumb penalties, dropped balls, uninspired play, missed tackles, and (what is most surprising for a Mike Shanahan coached team) they looked

UNDISCIPLINED and POORLY COACHED

!!! Granted, last week sucked for the Packers defense and secondary in particular. But, I give credit when it's due and I give Dom Capers for doing a DECENT job this week. I say decent because the defense still allowed their running back and wide receiver to each reach 100 yards. RG III just looked like he's not ready and (like I said last year a lot) simply OVERRATED !!! Yeah, some people will say that "oh, he's hurt and not playing 100%."

BULLSHIT

! Remember Brett Favre? He was hurt practically every single game out there and when he was young in the 90s he would have his best games .. WHILE HURT !!! Yet, RG III, it's apparently alright if he sucks cause "oh, he's hurt!" To me, he's just an overhyped guy who ESPN couldn't stop blowing last year !!!

After watching this game you just have to

get down and your knees and thank God that we have Aaron Rodgers as a QB

. Today, spare a few missed passes here and there, he played a PERFECT GAME !!! 4 TDs, pinpoint precision on his passes, and flat out nasty game management as the team matriculated the ball down the field! I saw a tweet that said that Larry McCarren on the radio said he was having a freaky good game. So I figured, that sounds about right, why not use it as my phrase that sums everything up for the week !!!!

The wide receivers? FLAT OUT AMAZING DAY! The tight ends? FINLEY A GREAT GAME! The running backs?

JAMES FUCKING STARKS

!!! I never understood why he's not given a chance more because every time he's on the field he GETS THE JOB DONE! Lacy goes down on his first carry? BIG DEAL! Starks was the next man up and ran with pure brilliance and actually topped over 100 yards which was a first for a Packer running back since .. guess who? JAMES STARKS!

Yeah the offensive line could have done better when they gave up a handful of sacks in what seemed like a few minutes. But, like I said last week, THAT'S EXPECTED! The guys are young and will only get better. Plus, when you gain almost 10000000 yards in one game the offensive line surely played good! Definitely liked what I saw today.

The defense though was again exposed in the second half but it's important to remember they were probably playing quarters for a deep cover zone when we had a big lead. But, still some missed tackles and still some shady coverage in the secondary. When Casey Hayward and Morgan Burnett get healthy I expect them to get better in coverage. Pass rush was alright today. But didn't hear much from Matthews and when I watched him it looked like he was being double teamed all the time. If I had to give the defense a grade I would say "C" because it just reminded me of the average Dom Capers bend but don't break defense that usually shows up when we win a game.

GET THIS! Friday night, the bar I frequent in Green Bay (The Standard & Co. / Top Hat) had two unexpected visitors ...

JOE BUCK AND TROY AIKMAN

!!! IT SUCKED THROUGH because they were there about an hour before I went out so I couldn't tell them how much

WE ALL HATE THEM IN GREEN BAY

. When I told people they were there everybody in town wanted to find them and punch them in the face !!! I hope they go out again here the next game they do !!!



Player of the game:

Aaron Rodgers obviously! But, I also saw Michael Hyde step up and make some good tackles and

DEVON HOUSE

on special teams played OUTSTANDING !!! Even though we gave up a lot of yards passing,

Sam Shields

deflected 3 balls and was solid and the player I've always loved

Tramon Williams

was rarely mentioned ... which, of course, is great if you're a corner !!! Together I like them both at corner but the safety position and third level of the defense needs to protect the middle of the field better in the weeks ahead.



Least valuable player of the game:

I CAN'T THINK OF ANYBODY

!!! In terms of a bone headed dumb idiot play of the game though, that goes to

Robert Francois

who idiotically on kick coverage jumped on a guy who was already down for what seemed like 2 seconds and drew a 15 yard penalty. Years ago, he lined up over the long snapper and that penalty cost us a win. So, his stock is not rising in my book on special teams seeing he's thinking with his junk rather than his head it seems!



Next week:

OK, I know it's taken me until Saturday night so you can all (nobody) stop demanding me to post my prediction! I got a good feeling. I don't consider the Bengals to be an "elite" team. In fact, I don't even consider them an average team. I'm gonna go ahead and call a solid Packers win with Rodgers dominating their feeble secondary, Starks running 20 times for 40 yards, and the defense getting 3 turnovers.

Packers 38 - Bengals 16

!!!

---
Week 3: 10/6/2013, At Bengals - Loss 34-30



Phrase that sums everything up:

TURNOVERS TURNOVERS TURNOVERS TURNOVERS



Summary & thoughts:

Can you believe it?

AARON RODGERS IS HUMAN

! Going into the game I figured we were the better team because we had the better QB. The

ginger

QB Andy Dalton I don't place anywhere in the class of elite QBs. Yet, Rodgers was off. The offensive line, granted did a good job but Rodgers was hit 8 times and seemed to have happy feet in the pocket. Oddly enough, he can hit passes nicely but has been missing the dump off passes! Go figure!

Of course, the play of the game was the Franklin fumble returned for a TD. I'm glad McCarthy went for it because a first down and maybe the Packers run the clock out and win the game. BUT, the problem I have is who you go to when the game is on the line. You obviously want to put the ball in your best players hands ... not that of a rookie in his first NFL game with regular playing time! Yes, Franklin played a good game and looked outstanding! But, in a big situation on 4th and 1, where McCarthy teams always seem to struggle, I would NOT run a rookie back behind an offensive line that is NOT bulky! Plus, it looked like the Bengals

KNEW IT WAS COMING

! If you watch the linebackers you notice that once the snap hits they all jump in the middle and stuff Franklin! If Rodgers play actions or bootlegs out ... first down! I can't remember if it was third or fourth down but we got a first down by throwing to ol' reliable ...

JORDY NELSON

! Check out the stats, Nelson targeted 9 times and had 8 receptions!

The defense played better. BUT, without Clay Matthews out there, it's obvious we are a different team. Matthews is such a difference maker that when he DOES come out of the game you CANNOT just plug in another player and expect him to perform in the ROLE that Matthews does. I see that as another fail by Dom Capers, failure to make adjustments. AGAIN AND AGAIN we see the team plagued by the "

OH, WE GOT A BIG LEAD, SCREW IT WE DON'T NEED TO PLAY DEFENSE ANYMORE

" mentality! Case in point, fourth quarter, Cincinnati gets a TD on FOUR plays going 65 yards! Sam Shields, as much as I love him, got beat for the TD. Shit happens. Then, when the defense needed a stop, no pass rush, shit coverage, and a 95 (

NINETY-FIVE

) yard drive for a TD in only 7 PLAYS !!! Yes, I love Tramon Williams too, but when he's gotta follow a guy running circles in the end zone he's bound to get open when there is no pass rush.

PLUS, WE KNEW THEY WERE PASSING, WHY NOT HAVE A SAFETY BACK

??? Will Capers adjust in the future? NO .. he has proven fourth quarter leads no matter how high are NEVER SAFE and if the offense doesn't pile up the points and keep the foot on the gas they are screwed. Which, is why I agree that McCarthy made the right decision going for it late in the game but made an error by calling a play putting it in Franklin's hands. Then again, he had a hot hand and while watching I thought he could get the job done. But he didn't so you have to put some blame on Franklin because fumbles are

INEXCUSABLE

!!!

If you haven't noticed, and judging by the lack of hits this page gets, I've been tweeting during games. I took a lot of shit in the first quarter on the Finley drop of a PERFECT PASS that knocked him out. My twitter friends were saying to me "you try to catch it after being knocked out!" Well, problem is, he

HAD CAUGHT IT

but he DROPPED IT

AFTER

he got hit! If I've said it once I've said it 100 times, I learned it as a little kid, if you get your hands on it you should catch it! Yes, I am biased against Finley but he's proven he is prone to drops! Getting hit hard is no excuse. The great ones make the catch over the middle like Andre Reed of the Bills, Donald Driver, and all the other great wide receivers! Hell, as much as he's despised now, Greg Jennings was phenomenal over the middle during the super bowl year when he lined up in the slot frequently and split the middle!

The injuries are getting really old too! Which, with all the hamstring errors, is making me (like a lot of people) question the training ... are we not stretching our hamstrings enough before games??? I'm sure we are and it's bad luck. But, remember Brett Favre? The Packers lately have been so precautionary with putting anybody with a stubbed toe in the game that if Favre was on the team he would probably miss games for being "somewhat" hurt !!! I'm starting to question the level of toughness, by the o-line, d-line, and players on and off is waning. Get out there and play ... if the bone ain't sticking out (as was the case with Favre) he would be out there playing!

Yeah, granted, maybe they were really hurt, but the time it takes to come back from injury seems to be off the charts the past few years

!



Player of the game:

JORDY NELSON

. I have to say I just have confidence in Jordy Nelson, just look at him near the sideline, he ALWAYS seems to magically get two feet down in bounds !!! His 8 catches were HUGE yesterday and he seemed to be the only one that had a good chemistry with Aaron Rodgers throughout the game. Which makes you wonder, why on the 4th and 1, we didn't do the usual spread formation, find the 1-1 match up, and throw to Nelson.



Least valuable player of the game:

JEREMY ROSS !!! I've seen enough. He is ZERO THREAT as a returner !!! Yet, considering the majority of kick offs don't even get returned anymore. The least he can do is just get passed the 20 on returns and PROTECT THE BALL !!! But, what does he do, fumble a kick and nearly make a boneheaded mistake picking up the ball and stepping out of bounds at the one yard line. His history as a returner is horrible. Remember the throw across the field punt return attempt last year? What did he do? PLOP, dropped it and a turnover resulted!



Next week:

10/5/2013 update: I JUST DON'T HAVE A GOOD FEELING ABOUT THIS GAME. The Lions seem confident after finally winning at Washington last week. Since 1991 they haven't won at Green Bay. Holy shit, I was only 12 years old !!! Yes, after bye weeks the Packers are 6-1 under McCarthy. But, I just don't have confidence in the defense yet and even though guys are returning healthy, Dom Capers has proven that he simply does not benefit from extra time to plan for a team (see week 1 notes) !!!

I'm gonna go ahead and call a 41-38 win for the Lions

. I think Aaron Rodgers has a good game but the running game that many people think is going great is stuffed by the Lions defense. Let's hope I'm wrong eh !!??

---
Week 4: 9/29/2013, BYE WEEK
---
Week 5: 10/6/2013, Vs. Lions - Win 22-9



Phrase that sums everything up:

Some things never change.



Summary & thoughts:

Wow, I'm typing this finally 1 day before next weeks game against the Ravens! So now you can all relax and stop contacting me every 5 minutes to update this page! Just kidding. I could probably type anything on this page because it doesn't get a lot of hits because I KNOW I KNOW ... your CARE FACTOR = ZERO about what I think about the Packers. BUT WHO CARES I'M DOING THIS ANYWAY.

Not many complaints at all this week. The offensive line was very good and SUH was not a factor in the game. Coming off the bye week I figured that the offense would stumble out of the gates and finally get it going in the second half. I was right because at half time it was 6-3! Although last year Mason Crosby was nearly cried out of Green Bay, this year he has been GREAT! For crying out loud he hit FIVE field goals and they weren't chip-shots either! If this were last year and say he struggled and MISSED all five we would have LOST the game 9-7! Yeah, I'm sure different situations would have caused different results but you know what I mean.

Rodgers was his great self like usual and it's great seeing the running game COMPLIMENT the passing game. BUT, if I've said it once I've said it a thousand times,

RUNNING THE BALL IS BORING, PUTS FANS TO SLEEP, AND DOESN'T PUT POINTS ON THE BOARD!

Personally, I'm glad the NFL and college is now pass-orientated. Everybody has played football as a kid and when you did what were the plays? Almost 100% passing because running the ball is just

BOOOOOOORIIIIINNNNNGGG

! What happened when we started passing? TOUCHDOWNS were scored and James Jones had a great game!

But, once again, we must give credit to our starting corners

SAM SHIELDS, TRAMON WILLIAMS, AND DEVON HOUSE

! ALL of them shut down the Lions' passing game nicely! When you don't hear about them all game they are doing a great job! I've always wanted a Williams - 38 shirt and finally, after all this time, at Shopko I found one !!! Not a jersey either but a tee-shirt with his name on the back ... PERFECT cause wearing jerseys isn't comfortable anyways!

Props to Mike Neal too who played a great game. It's about time because prior to the game every time he would be mentioned it would just be commentators drooling over how muscular he is.

What sucks is that Clay Matthews broke his hand and Brad Jones was hurt too. For crying out loud, the NFL nowadays seems like the teams that win are the teams with the best depth because by the end of the year you can count on like 30-40% of the team you started with being placed on IR.





Player of the game:

The star players always seem to get it but I'm going to go with MASON CROSBY !!! His kicks added points to the scoreboard after the running game zonked everybody out. But, go figure, 5 field goals! MVP TO ME !!!





Least valuable player of the game:

RYAN TAYLOR !!! If you're a backup TE and you aren't targeted a lot when the ball is thrown your way for a sure TD you gotta

CATCH THE DAMN BALL

! Say Crosby missed half his FGs and the Lions' hit a couple of big plays for scores, he would be thrown out of town for missing the TE. Luckily, we won so nobody is bitching.



Next week:

Ouuuuu this is iffy. The Ravens have sucked this year. Case in point, my second favorite team the Buffalo Bills BEAT them in week 4! Ravens are 2-0 at home and Packers are 0-2 on the road. Like in the movie This is Spinal Tap, not all drummers can die a sudden death when in the band so I'm gonna go ahead and say the law of averages will even out the home-road records. I'm not confident in this prediction but I say the Packers win a low scoring close one with the running game being a non-factor with the Ravens D who will be fired up at home.

23-20 Packers win on a late Crosby FG!



---
Week 6: 10/13/2013, At Ravens - Win 19-17



Phrase that sums everything up:

A very beautiful ugly win!



Summary & thoughts:

I predicted a 23-20 Packer win and DAMN was I close! I figured our running game would be kept in check by the Ravens defense but I WAS WRONG! AGAIN Eddie Lacy ran for 100 yards! THAT was key because I thought Aaron Rodgers had an off day. But, it's a sign of a great QB when you can still pull off a W when not firing on all cylinders. One trend I have noticed with Rodgers is that he gets happy feet and his accuracy is off when he's hit early. It I were an opposing team facing the Packers I would blitz him heavy in the first half and even if you have to accept a 15 yard late-hit penalty so be it because it will be worth it in the end.

Although the Ravens won the Super Bowl last year, one would NEVER know it from watching the game. Joe Flacco proved he is nothing more than mediocre with his play and Ray Rice and their running game just wasn't there. Their offensive line is their weakness and it showed because the D-LINE was outstanding throughout the game and most importantly that allowed the linebackers to have a field day. Yes, A.J. Hawk played probably his best game ever and got 3 sacks. I've never been a big fan of Brad Jones. He's as average as his name is generic. When is the last time he made a big play? I can't even remember. But who showed up in his place

JAMARI LATTIMORE

!!! Stats show he only had 3 tackles but 2 for a loss but to me he looked EVERYWHERE and he is PHYSICAL and when he hits guys it looks like he lays down the law and punishes the other team. I had flashbacks to Desmond Bishop during the Super Bowl year a few years ago watching him. He filled in and the defense IMPROVED !!!

Ravens WR Torry Smith had ONE catch and was targeted FOUR times. Yeah, we saw my man

Tramon Williams

miss a tackle in the open field. Unacceptable ... yes ... but we all know corners aren't necessary the best tacklers out there (

think Terrell Buckley and Deion Sanders

). Sam Shields to me is playing at a PRO BOWL level! But yeah, he got his feet tangled up and gave up a TD. Devon House ... never heard his name called the whole game so he must have covered great and he DID! 3 PASSES DEFENDED !!! But the stud out there in the secondary was

MICHAEL HYDE

!!! HE, HAWK, and LATTIMORE WON THAT GAME for the Packers !!! Only disappointment maybe was Datone Jones. Granted, he recovered a fumble but it's not that hard to bend over and pick up the ball and run when on the field. So far this year he has ONE tackle! Not necessarily dominating out there as a #1 pick. They say he's injured but GOOD PLAYERS play GOOD when hurt. No excuses.

I saw on twitter a ton of Packers fans giving John Kuhn shit for not falling on the blocked punt. However, I don't know how it wasn't called, but Ryan Taylor was beyond all realms of held on the play ... so bad the holding brought him into the punter and made him block the punt. But, back to Kuhn, when you got open field in front of you and the ball is sitting there, I have no problems with him trying to pick it up. He picks it up cleanly we are all shouting "WOW, Kuhn did a great job picking it up and not falling on it !!!" Plus, he's a HANDS guy (can't remember if he's on the hands team for onside kicks) and I remember shouting when the ball was loose PICK IT UP! I would have done the same thing, probably missed it too, tripped over my own two feet, and fell head over heals into a 300 lb. lineman.



Player of the game:

A.J. F'N HAWK !!! Not really much else to say because it's obvious he played the best game of his career !!! AND EVEN THOUGH NOT A PLAYER ... the

COACHING STAFF OUT COACHED THE RAVENS

!!! Even Dom Capers made Clay Matthews absence actually a non-factor in the game. Plus, Mike McCarthy and the offensive coaching staff ADJUSTED TO PERFECTION in the second half when Jones and Cobb went down!



Least valuable player of the game:

FOURTH AND 21 and we GIVE UP A FIRST DOWN !!! McMillan gets the blame because he tripped but Morgan Burnett, despite having a good game, LET THE WR GET BEHIND HIM. The play was wrecked from the start and to quote BACK TO THE FUTURE - "

WRECKED !!! WHEN THE HELL DID THIS HAPPEN !!! ???

" This week we rename the LVP from player to play. Just ONE PLAY stands out ... I'll take it.



Next week:

I'm not sold ONE BIT on the Browns being good. AT LAMBEAU I'm not concerned one bit. I'm gonna go ahead and call a

42-13 PACKERS WIN

!!!

---
Week 7: 10/21/2013, Vs Browns - Win 31-13
Phrase that sums everything up: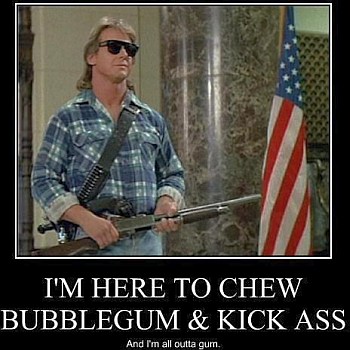 Summary & thoughts:

I read on Journal Sentinel online this morning that A.J. Hawk said in a pre-game speech "keep calm on chew bubble gum !!!" A phrase similar to what was said in one of the greatest movies of all time ... THEY LIVE !!! Indeed the Packers dominated the game and like I predicted last week the Browns were as bad as I thought they were. After Finley's TD in the first quarter I knew the game was over and I called the infamous dagger that early. Go figure too, the final score was 31-13.

AGAIN I GET ONE TEAM'S SCORE EXACTLY RIGHT

!!!

But back to the the phrase thing (sometimes I think is cheesy to use week after the week) of the week. How does that relate to the Packers? Like in the movie, a blue-collar guy saves the world from aliens who you can only see when putting on special sun glasses.

Of course, the aliens are symbolic of filthy Republican scum who want a stupid American public to take advantage of so only THEY can get rich

. The Packers and the GREAT PLAYERS that Ted Thompson finds off the street are comparable to Roddy Piper in the movie. AVERAGE GUYS that come out of nowhere and come in for the big win week after week year after year. IN FACT, I wouldn't be surprised to find Ted Thompson out at a local bar one week, find a 21 year old guy who hasn't played football since he was in middle school, and turn him into the next JOE MONTANYA (see The Waterboy movie if you don't get it why I use him as an example).

In the game we saw the infamous and legendary Aaron Rodgers to JARRETT BOYKIN connection. All those idiot fans who thought we should sign a washed up free agent again proven to be wrong by the performance of an undrafted guy nobody heard of before he contributes to a victory.

I didn't hear of

Tramon Williams

at all during the game.

Sam Shields

was lights out again at corner.

Devon House

continued to play excellent.

A.J. Hawk

again a solid game (I was going to superimpose his face into the above picture but I couldn't figure out how to cut-and-paste a circle in Irfanview photo editor so I said the hell with it). Aaron Rodgers solid like usual. Offensive line again excellent. But, I'm concerned a little with

Eddie Lacy

being overused. He's a rookie and I hope he doesn't wear down later in the year. See

Jean Segura

and the second half of the year he had for the Brewers. Like to see Franklin get maybe a few more carries again (as long as he holds on to the ball).

It sucks Finley got hurt but there was no way the safety should have got a 15 yard penalty for unnecessary roughness. He went for the tackle and hit him in the shoulder. Big deal. Typical crap call from the Jeff Triplette officiating team. I am definitely concerned about the backup TE situation because I haven't been impressed with anybody beyond Finley on the depth chart.

I do not miss Brad Jones at LB because Lattimore is doing a better job I think.



Player of the game:

A good team win but considering he had a horrible game a week ago I'm gonna have to go with the consensus pick and also choose

BOYKIN

.



Least valuable player of the game:

If anybody can think of somebody to be the LVP let me know because I can't think of anybody deserving !!!



Next week:

The Packers always frustrate horrible QBs and whoever is playing there next week for the Vikings I expect to have a miserable game.

I hope Greg Jennings has 1 catch for 2 yards and leaves the game crying like a baby

. His brainwashing comments he made in the off season were laughable. I'm always worried going into the Metrodome from the years Brett Favre struggled there. Jordy Nelson I think does great on turf and I expect him to have a big game. Adrian Peterson against our defense should decide the game. We hold him to under 100 we win easily. Even if we don't I think we win easily.

Packers 28 - Vikings 16

.

AFTER WATCHING THE VIKINGS PERFORMANCE AGAINST THE GIANTS YESTERDAY, I'M GOING TO GO AHEAD AND MAKE A BOLD PREDICTION. I'M CHANGING MY SCORE OF THE GAME TO PACKERS 38 - VIKINGS 13.

BUT, HERE'S THE DEAL, THE MONDAY AFTER THE GAME, I'M PREDICTING THAT VIKINGS HEAD COACH LESLIE FRAZIER GETS SHIT-CANNED

!!! SIMILAR IN FASHION TO 2010 (or 2011 one of those years) WHERE THE PACKERS BEAT TEAMS AND RIGHT AFTER THE OPPOSING TEAM FIRED THEIR COACH.

YOU HEARD IT HERE FIRST

!!! THE GAME PLAN YESTERDAY SHOWS HOW HORRIBLE OF A COACH FRAZIER IS LETTING A QB WITH ZERO ACCURACY FIRE THE BALL ALL OVER THE PLACE LIKE A CHICKEN WITH HIS HEAD CUT OFF.

---
Week 8: 10/27/2013, At Vikings - Win 44-31



Phrase that sums everything up:

I can't think of anything because it was a good win. So let's just say "

A GOOD WIN

" is the phrase ... totally generic I know!



Summary & thoughts:

When the game started and Patterson took the opening kickoff 109 yards for a TD I thought that would be the only score the Vikings would have. Why? I have confidence in this team and a confident team in the NFL makes any team hard to beat!

It's just FLAT OUT AMAZING to watch the Aaron Rodgers to Jordy Nelson connection this year

. Mostly because it seems whenever he throws him the ball he always catches it! Check out the stats! Targeted 8 times and 7 catches for 123 yards! I'm not gonna say too much about the offense because we all know from watching how dominating a performance it was. I've never seen a game where a team was so feeble in getting their defense off the field than the Vikings! Yeah, Cris Collinsworth and Al Michaels hammered that point into our heads throughout the whole game but I won't complain because it was so bewildering! A lot of people bash Collinsworth on Twitter and don't like him. I don't see why, seeing he calls a good game and doesn't say "I" every time he opens his mouth like that faggot (South Park definition) Troy Aikman does!

I do have a few concerns about the game.



FIRST

, which I think is becoming a trend and has been in recent years, once the offense has a big lead or throws down the dagger, the defense more or less says "

IT'S OVER, WE CAN RELAX AND GIVE UP SOME TOUCHDOWNS!

" Finishing games on offense lately has been excellent. BUT, I would like to see the defense pile on sacks and make the score not indicative of how the game went.



B

, the lack of interceptions by the defense is concerning because turnovers are obviously such an important part of the game. I won't complain a lot just yet but hopefully the lack of turnovers doesn't decide a game later this year.



THREE

, the lifespan of running backs is very short and

EDDIE LACY IS A ROOKIE

so I would like to see his workload reduced to less than 29 carries! I've always been a change of pace running back fan. Remember the

Edgar Bennett and Dorsey Levens and Ahman Green and Najeh Davenport

one-two punches? I give props to Mike McCarthy for giving James Starks carries. I don't expect us to run the ball 36 times a game but if we do I think I wouldn't mind a ratio of around 22 for Lacy, 10 for Starks, and 6 for Franklin. In kill-the-clock time, assuming no

fumblerooskis

(a nod to the great movie Necessary Roughness), why risk injury to Lacy or give him more bruises than he needs to recover during the week?



FINALLY

, the pass-interference calls on Tramon Williams were

TOTAL BULLSHIT

!!! Horrible calls by the refs and like I tell everybody, I would rather see a no-call on questionable PI play than a ticky-tack call.



Player of the game:

Aaron Rodgers and Jordy Nelson share the honors this week just for the pure entertainment value and "SMH" in amazement pass and catches throughout the game. BUT, also, MIKE DANIELS had an excellent game pressuring Ponder up the middle. ALSO, NOT A PLAYER, BUT THE

PACKERS FANS TOOK OVER THAT GAME

!!! A TESTAMENT TO THE DEVOTION OF THE FANS !!!



Least valuable player of the game:

Not necessarily an LVP as much as a LAUGHING STOCK of the game.

GREG JENNINGS - 1 CATCH FOR 9 YARDS

!!! For a guy who talked such trash in the off season to come out and have such a pathetic game has to be completely humiliating. He talked trash about his QB and then goes to the Vikings where all their QBs are garbage? DESERVING !!! I do kinda feel for the guy though, he was a great Packers WR, and I think now that we kicked his ass I don't hate him as much.



Next week:

I don't know yet, I'll update it later. OK NOW IT'S MONDAY MORNING OF GAME DAY.

Packers 27 - Bears 13

. I just keep getting visions of the opponents team scoring only 13 points lately!!!

---
Week 9: 11/4/2013, Vs Bears - Loss 27-20



Phrase that sums everything up:

TWO OF THEM: 1: FUCK YOU BOB MCGINN 2:

#PRAYFORAARONRODGERS

!!!!!!!



Summary & thoughts:

Geeze, believe it or not, AGAIN I pick the final score with exactly a correct number! PROBLEM IS the Bears had 27 points and not the Packers!!!

FIRST OFF, BOB MCGINN'S ARTICLE TITLED "PACKERS COULD WIN WITHOUT RODGERS" IS BEYOND ALL REALMS OF JINXING !!!

IT'S AKIN TO WALKING CALLING A TIMEOUT, WALKING UP TO A PITCHER IN THE 9TH INNING OF A NO HITTER, AND SPEAKING IN A MICROPHONE BROADCAST TO THE ENTIRE STADIUM "HE'S GOT A NO HITTER GOING !!!"

EVEN WHEN I WOKE UP AND READ IT IN THE MORNING I GOT THAT BAD FEELING AND THOUGHT TO MYSELF, WHAT THE FUCK ARE YOU DOING

????? !!!!!

Idiot, idiot, idiot, idiot !!! Stupid, stupid, stupid, stupid

!!!

All things considered, still in first place, running game excellent, starters coming back.

Beat in trenches tonight

.

#PRAYFORAARONRODGERS

though. NOT impressed by Wallace but once Lang went down protection and more importantly Wallace SETTING his protection on plays showed inexperience which is expected.

NEXT MAN UP APPLIES TO EVERYBODY AT EVERY POSITION IN THE NFL but EXCEPT QB! You simply cannot replace a guy like Rodgers or even Brady, Manning, Brees, etc. CAN'T DO IT! The next phrase going around this year which is "KEEP CALM, CARRY ON" is important this week. KEEP CALM!!! It's one loss. HELL IT WAS ONLY BY 7 POINTS and not a 45-0 blowout or anything! We were still in the game!



Anybody SERIOUSLY CALLING FOR BRETT FAVRE TO BE SIGNED DESERVES TO HAVE THEIR SEASON TICKETS TAKEN AWAY AND FOREVER BANNED FROM LIVING IN THE STATE OF WISCONSIN

!!! Remember how he played his last year? He's 44 do you really expect him to come in and throw for 5 TDs in a game? Mike McCarthy's system has changed and plays are different since 2008. You really expect him to master the playbook in days and come out dominating? Wallace CAN FILL IN but HE'S GOT TO get Nelson, Jones, and Boykins involved. Mike McCarthy has to utilize them in flanker screens, slants, etc. that give Wallace easy 2 options 3 at the most to throw the ball. I wouldn't mind seeing Matt Flynn signed. Plus, if anybody CAN come in at age 44 and play QB, it would be Brett Favre. It never will happen. Can you imaging Ted Thompson bowing down to Favre's feet asking him to come back? No. End of story!

THE DIFFERENCE IN THE GAME: Defense totally out physicalled. When your offense can't stay on field on 3rd down and defense can't get off field on 3rd down it's recipe for a shit-sandwich of a disaster!

ZERO PASS RUSH THE ENTIRE GAME

! AGAINST a backup QB! Plus, hardly any "unique" Dom Capers blitzes which used to be his staple as a defensive coordinator. Nowadays, he seems to have only 2 blitzes he calls. The A-gap criss-cross stunt by the middle linebackers, and a corner coming off the edge.

THAT'S IT! PREEEEEDICABLE

!!! Yet, against a backup QB I was not impressed by the defensive game plan. I love Tramon Williams and Sam Shields but I will admit Williams didn't have that good of a game. BUT, when you are facing above-average WRs and zero pressure is on the QB it's expected the WR will eventually beat the CB because he knows where he's going and the CB does not!



MY BIGGEST ISSUE WITH THE DEFENSE IS THE LACK OF TURNOVERS

. We still give up yards like we did during the Super Bowl year but remember back then ... WE HAD TURNOVERS ALL THE TIME! Think back to the NFC championship game in 2010,

Sam Shields and Tramon Williams interceptions WON THAT GAME

. When turnovers don't happen and you keep waiting...waiting...waiting for picks to come and they never come it's frustrating. PLUS, MISSED TACKLES ALL AROUND WERE BEYOND FRUSTRATING !!! Finally, where is Datone Jones? Eddie Lacy as a rookie is NOT playing like a rookie and plays the most physically demanding position in the game and he's productive. Injured or not. If you're healthy and playing, you are expected to make plays ... especially if you are a #1 pick !!! Granted, he had a sack, yet McCown practically fell down and he fell on top of him.

I love Mike McCarthy but he had a horrible game.

Didn't challenge the Quarless catch which was HUGE

! He left all 3 timeouts in pocket in first half. Let 40 seconds run off clock AFTER THE 2 MINUTE WARNING. Wallace and offense could have used them on last drive. Also, when in the red zone after Eddie Lacy was running guys over, taking him out for a breather and not letting him run there was huge! Because after that drive, Lacy didn't do much because the Bears adjusted and didn't give up much to him after!

Wallace also needs to realize that Andrew Quarless is not the play maker on offense. Makes me realize how damaging the loss of Finley can be for this team because he MADE PLAYS and despite drops here and there at least ran guys over and got first downs. With Wallace, he played scared. He didn't want to throw the ball down the field often and I can remember a couple of times on third and long he throws it for less than the first down and Quarless catches the ball and immediately flops to the ground.



LIKE IT OR NOT PACKERS FANS. AFTER THIS ONE WE HAVE TO TIP OUR HATS TO THE BEARS

. Josh McCown showed how a backup is SUPPOSED to play. Forte underrated and strong. But Bears offensive line won the game in my mind. Going for it in their own territory on 4TH and INCHES in the 4TH QUARTER showed confidence in the o-line, RB, and offense. That was the dagger and a 20 PLAY FUCKING DRIVE to seal the Packers fate towards the end of the game. That drive was like a knife being slowly but slowly stabbed into the heart of the defense. Oh yes, their WRs are pretty damn good. Jeffrey has a huge future and I've been impressed by his play all year.



Player of the game:

Eddie Lacy and James Starks

. Lacy sealed it to me when he ran for about 12 yards and just plowed over a player of the Bears secondary.

ALSO, for the BEARS, JAY CUTLER

! He doesn't smile much but when they showed him as a captain before the game and on camera listening in to the booth he was smiling he had a big grin on his face. We could always rely on Cutler to throw us at least 2 balls a game to be intercepted. Without him, they didn't come, and the lack of turnovers was devastating to the Packers.



Least valuable player of the game:

Sooooooo many options but in this loss I can't hand it to one single player. When the offense struggles, the defense struggles, when no interceptions come the d-line struggles, when the d-line struggles the linebackers and secondary struggle. When the running game gets stopped the passing game struggles.

AND OBVIOUSLY, when your starting QB goes down, everybody else struggles and a domino effect of A making B struggle making C struggle making D struggle occurs

.



Next week:

GAME DAY MORNING UPDATE: Tough to call. I fear the Eagles because they are unique on offense and defense and without Rodgers we will rely on the running game to get it done. After scoring an insurmountable amount of points last week against Oakland, I don't see the Eagles scoring THAT many points this week. But,

THEY ARE CONFIDENT and WE ARE NOT

. Toughest prediction all year. I'm going to predict a loss due to the hot/cold team factor. Plus, that way if the Packers lose, I can at least have a tiny tiny bit of happiness I predicted right. I hope I'm wrong. If the defense gets at least 2 turnovers I think we win. If not, we lose. I'm going to go ahead and predict

30-27 Eagles

who win on a late FG in the 4th quarter.

---
Week 10: 11/10/2013, Vs Eagles - Loss 27-13



Phrase that sums everything up:

NEXT MAN DOWN !!!!!



Summary & thoughts:

The injury situation in the NFL is becoming a joke. Every single game it seems at least one player on every team goes down injured and is out for an extended period of time. It's just an expected part of the game to be watching, see some guy laying on the ground, see the trainers come running, and then have the the TV station cut to commercial. NO TEAM in the NFL has suffered in recent years with injuries like the Packers. Yes, next man up is expected and the backups have done great. Problem is, when is enough enough? Eventually, you lose so many guys you simply can't compete and when it's your QB going down, your team is down for the count.

But yeah, we have a 5-4 WINNING RECORD. The resilience of overcoming this adversity and still putting out a team where the majority of fill-in players PRODUCE is a testament to the job

Ted Thompson

has done as GM. BUT, also, it's a testament to

MIKE MCCARTHY

who (to me) is the most underrated coach in not only the NFL but in all of sports. Every single game since he's been here the offense has not been a problem. See Boykin, Franklin, Starks, offensive lineman being shuffled like a deck of cards, and the recently discovered .. BOSTICK who had 3 catches and a TD Sunday!

The legendary QB to WR combo of Tolzien to Bostick

.. ehh.. never thought I would say that going into the game!



I SAID IT LAST WEEK AND WILL SAY IT AGAIN THIS WEEK, NEXT MAN UP DOES NOT APPLY TO QUARTERBACKS

because a good one simply cannot be replaced. It doesn't take an IDIOT to realize that when Wallace left the game SCOTT TOLZIEN came in and performed BETTER !!! Yes, a couple picks, but expected for a 3rd string guy! What he gave us though and what I felt was confidence .. and like I said last week, confidence goes a loooooong way in this game. Problem was yesterday, the Eagles were more confident as a team.



WHILE ON THE SUBJECT OF CONFIDENCE, I DOUBT THERE IS ONE PERSON LEFT IN PACKER NATION THAT HAS CONFIDENCE IN DOM CAPERS AND THE DEFENSE

. Coaches in all sports are simply scapegoats for the fans and media to pin blame on so the convenient one sentence twitter post, small talk conversation in the office, ESPN scroll on the bottom of the screen, Facebook post, and simple-minded fan can act like they know something about the team and act smart.

THE THING IS THOUGH, scapegoating a coach for a team's problems is actually CAN MAKE A DIFFERENCE IF A CHANGE IS MADE

. Examples off the top of my head that show coaches make a difference include Vince Lombardi, Mike Holmgren, and (IRONICALLY) DOM CAPERS IN 2010! When he came in, go figure, the defense was ranked #1 most the year. NOT ONLY THAT, practically everybody on the defense was hurt that year and we won the Super Bowl! Why? Adjustments were made, and players who filled in had confidence. Examples: Charlie Peprah, Desmond Bishop, HOWARD GREEN, and hell look at the Super Bowl, Patrick Lee and Jarrett Bush got the job done at CB! BUT SINCE THEN, problem is, regardless of who is out there on defense, the

JOB DOESN'T GET DONE AND REOCCURRING PROBLEMS COME BACK GAME AFTER GAME AFTER GAME AFTER GAME

. It doesn't take an idiot to realize that the defense has cost us games, years, and seasons at the end of the year. Dom Capers, has to go. HE SHOULD have been gone after the season last year. A day late and a dollar short and he's stuck this year. If he's shit-canned this week or during the regular season, I wouldn't complain. But, who's going to replace him? Good question, I don't know.



Random Comments:



Lack of turnovers on defense. I don't have to evaluate on that.
Good to see

Datone Jones

had 2 sacks, he's redeemed for what I said about him last week.

Scott Tolzien's

weakness is beyond apparent. He stares down the guy he throws too. Inexperience? Yes, but he's going to have to master the second read on passes going forward.
REFS !!! Beyond inconsistent calls. Not necessary the calls made but the calls NOT MADE. I'm getting to be pretty good at spoting holding. On the Boykin (the Eagles guy) interception, how in the

SAM HILL

was a holding call not called on the guy who was blocking

JOHN KUHN

??? BUT, BIGGEST GRIPE, the LACK of pass interference calls. I saw at least 2 or 3 PIs not called when Eagles defenders never looked for the ball, hugged our WRs, and the pass was broken up. I thought the right call was made on the Nelson almost catch for a TD. The call on the field is very important. If it was ruled a catch probably would have been upheld. Yet, I thought the Foles' fumble wasn't conclusive, and that was overturned. So who knows.

Sam Shields

is playing beyond all realms of great. Pro-Bowler in my mind.

Tramon Williams

is NOT THAT BAD. He's being used wrong. I think, I always like him and bought his jersey shirt so I defend him even if I know he's playing poorly!

My cat, Bubbles, is sleeping on my laptop. Are your still reading?


Clay Matthews

is not the same with one arm.

Morgan Burnett

had a game to forget.

Yes, Lesean McCoy is good. If it weren't for Payton Manning, he's an MVP candidate in my book.

Player of the game:

JARRETT BOYKIN

- We see why Donald Driver wasn't used last year and retired in the off season. Boykin, off the practice squad to two games with over 100 yards. Again, a testament to Thompson and McCarthy.



Least valuable player of the game:

EASY EASY EASY - BRAD JONES !!! WHAT HAS HE DONE FOR US .. EVER ??? His missed tackles in the 4th quarter were very noticeable and he just got his ass kicked. ONE SOLUTION TO START WITH TO FIXING THE DEFENSE = ENOUGH BRAD JONES AND

FREE JAMARI LATTIMORE !!!!

HE'S MORE PHYSICAL, MAKES PLAYS, TACKLES NICELY, AND GETS THE JOB DONE. Hey, we've won both games he's started.



Next week:

Even if everybody was healthy. I just can't get past the Giants kicking our asses in the playoffs recently and beating us in 2008. I think the shit hits the fan and the defense gives up 38 points, Tolzien throws 3 interceptions, Lacy runs 50 times for 70 yards (yes, that's I'm being sarcastic but you get the point), and the screams for Dom Capers head to be on a stick and marched around Main Street in downtown Green Bay reach an unprecedented volume.

Giants 38 - Packers 23

.

---
Week 11: 11/17/2013, At Giants - Loss 27-13



Phrase that sums everything up:

PREDICTABLE LOSS



Summary & thoughts:

How predictable? The same score as last weeks game! How predictable? 3 weeks in a row, 3 losses in a row, and 3 losses where the opponents score

EXACTLY 27 POINTS

!!! As soon as I read that Sam Shields was inactive due to injury I knew that the secondary would struggle because Eli Manning always kicks our asses. Even when he's having a mediocre year like he is this year, he beats us.

BUT BUT BUT TAKE AWAY THE 3 INTERCEPTIONS BY TOLZIEN

and the Packers possibly win this game. Take away the first quarter where the offense had 6 plays and the defense couldn't get off the field and it's a different game. One of my biggest gripes, CLAY MATTHEWS being used in COVERAGE too much.

BAD COACHING THERE AND BLAME = DOM CAPERS

!!!

IS IT PREDICTABLE THAT CAPERS HAS A CRAP GAME PLAN AND THE DEFENSE PLAYS LIKE SHIT

? YEP!



WHAT'S PREDICTABLE?



Tolzien takes one look and throws the ball and tosses 3 picks. Yet, juuuuuuust like last week, he throws deep balls to perfection making you shake your head.
The defense stays out on the field and can't get off the field.

Giants time of possession is 10+ minutes higher than ours

. No surprise there!!!
Although the defense had 4 sacks, if they didn't get a sack, Eli Manning picks apart the secondary.

The offense can't run for shit with a banged up line with opponents stacking the line. Yet, they only kept 8 on the line and out lost the battles in the trenches.
The secondary lets guys get open and gives them a stupid buffer zone to make sure guys don't get behind them.
The safety play is crap and

Burnett continues his downward spiral

by taking bad angels and not jumping routes. He looked totally lost.
The "unique" blitzes that Capers was known for in 2010 are now beyond predictable and the criss-crossing linebackers and/or a guy off the corner.
Brad Jones simply get his ass kicked and run over in the first half.

#FREEJAMARILATTIMORE

, missing and not used just like last week. Yet, his stats look glorious and he leads the team in tackles and had a great second half. Go figure.
Special teams penalties ... again .. just a something you see every week. When will guys learn or when will it be stressed "

hey, don't block the guy in the back, you can't do that.

"

Jordy Nelson playing at an all-pro level

. He catches everything thrown his way. Keep throwing it to him until teams stop him. Again,

9 targets and 8 catches

. Very good.

Jarrett Boykin, only getting better.

Eli Manning beats us with ease

.
Opponents WR has over 100 yards against us.
Brandon Bostick has a catch and plows guys over showing great talent. Yet, he doesn't see the field much and the useless Quarless sees more time.
Tramon Williams get flagged for a completely bullshit pass-interference penalty.

Player of the game:

TRAMON FUCKING WILLIAMS

!!! HOW good was he? We needed to step it up and tackle better. HE DID. We needed more turnovers. HE GOT ONE. He played outside with Shields hurt, making moving him to slot was a bad idea. Ya think? Runner up I give to

TOPPERS PIZZA

!!! $45 of pure deliciousness ordered with my friend Jon & I and worth every penny!



Least valuable player of the game:

I would give it to Tolzien. But, second NFL game, 3 picks, 3rd string QB, and the fact he has his good moments makes me hesitate to give him the LVP. So,

I'll give it to Marshall Newhouse

. Every time I watched him try to pass block he got his ass kicked. Considering we didn't get much running he couldn't have been good on that either. But, I would have to view the game tape and I don't have access to that. Yet, we didn't get sacks, so figure that out.



Next week:

It's Saturday morning, kinda hungover, but not too bad ... just dehydrated. I figure now is a good time to dig into my inner crystal ball. I'll go Packers 23 - Vikings 16. Ponder sucks and Packers pull it out. Leslie Frazier gets shit-canned the next day. I got a feeling the Packers win this game and the next game.

---
Week 12: 11/25/2013, Vs Vikings - 26-26 - A TIE? A FRICKEN TIE ??? !!!



Phrase that sums everything up:

A TIE !!! So we are literally as good as a 2-8 team. Pathetic.

WHAT THE HELL IS GOING OUT OUT HERE?





Summary & thoughts:

My biggest gripe: Yes, can't fault McCarthy for going for 2. BUT BUT BUT BUT .. I do fault him because for the SECOND GAME THIS YEAR he lets PRECIOUS SECONDS tick off the clock in the last two minutes of the first half. I LOOKED IT UP. First play after the 2 minute warning: Ponder to Ford for 20 yards down to the 2 yard line.

NEXT PLAY OCCURS AT 1:14

... 46 SECONDS GONE. IT IS SAFE TO ASSUME that the Vikings had only one possession left (which of course if the Packers took their 3 timeouts would leave about 1:45 left on the clock. GOOOOOOOO FIGURE ... we get the ball back and on the last play of the half

TOLZIEN SUDDENLY THINKS HE'S BARRY SANDERS and runs it UP THE MIDDLE TO THE 26 YARD LINE WITH NO TIMEOUTS LEFT

!!! That's FG RANGE !!! Scoring before the half is THE KEYS TO A WINNING TEAM and TOLZIEN AND MCCARTHY BLEW IT THERE !!!



WOW, THE DEFENSE ACTUALLY GOT BETTER

!!! Instead of allowing 27 points like they did the last 3 weeks they only allowed ... 26 !!! Consistently below average defense once again. Morgan Burnett apparently just refuses to get burnt deep (against Christian Ponder for crying out loud) and continues to give receivers THE BUFFER ZONE coverage. He lead the team in tackles with 12. Not surprised seeing he mostly lets guys catch the ball and then tackles them ... in what feels like is always after they got a first down. DROPPED interception again by Devon House .. who I see is regressing a lot with Sam Shields out with an injury. Tramon Williams steady holding Greg Jennings to 2 catches making us all laugh because he's not really dominating games yet alone being targeted. I don't miss him.

The Biggest problem I have with the defense is they once again just can't stop the run. Granted, they were playing against Adrian Peterson but watching the game and seeing

ARM TACKLES ON HIM is INEXCUSABLE

!!! He's been held to under 100 yards this year and is nowhere close to being what he was last year and lo and behold he runs through arm tackle attempts by Brad Jones and AJ Hawk often. Brad Jones is the ultimate example of inconsistency. One minute he's making plays the next minute he's whiffing on guys. When he's whiffing, he's missing tackles and precious yardage is given up. The biggest gripe about the defense: This sums it up ... We have the lead in OT and if we hold them IT'S OVER. INSTEAD, the defense just says "

LET'S GIVE UP SOME BIG LONG RUNS!

"

(9:01) A.Peterson left guard pushed ob at MIN 36 for

15 yards

. (on third down, gutsy call I thought)
(8:30) T.Gerhart left tackle to MIN 45 for

9 yards

.
(6:33) T.Gerhart up the middle to GB 24 for

12 yards

.
(5:53) T.Gerhart left tackle to GB 13 for

11 yards



Offensively, after the first three and out of the third quarter I tweeted it might be time to give Matt Flynn a shot. McCarthy agreed with me and put him in! IMMEDIATELY CONFIDENCE was felt and when he got in the game THE MOMENTUM CHANGED !!! Tempo is so important in our offense and Flynn brought TEMPO. The Tolzien experiment proved he's a third stringer who won't win a game for you but will only lose a game for you. Also, I take back everything I said last week about Brandon Bostick .. 3 DROPS !!! Unacceptable !!!

NO DOUBT EDDIE LACY IS A TRUE #1 BACK AND HE PLAYED OUTSTANDING. With crap run blocking (although I saw Sitton and Lang make some great blocks) he singlehandedly moved the chains. BUT, THE KEY WORD IS MOVE THE CHAINS. If I've said it once I've said it a million times but I believe that RUN-ORIENTATED OFFENSES SIMPLY MOVE CHAINS AND OFTEN LEAD TO FGS OR STALLED DRIVES! POINTS get on the board via the pass. Just look at QBs who toss 4 TDs a game a lot (Manning, Brady, Brees, Rodgers),

when was the last time we saw a running back pound it in 4 times

??? A LONG LONG TIME! Yet, if we are gonna run it (and I can't fault McCarthy FOR often running seeing our QB, WR, and TEs are beyond depleted) but GIVE LACY A BREAK. STARKS HAD BIG PLAY POTENTIAL and busted a long run again.

Remember Eric Metcalf, Dorsey Levens, and in the Super Bowl year BRANDON JACKSON

? A change-of-pace back is a GREAT THING TO HAVE but Starks needs to be kept fresh throughout the game. McCarthy, for some reason, hasn't been using Starks this way and keeps Lacy on the field almost constantly and giving Starks only a drive or two.



Player of the game:

Other than Eddie Lacy (which is the obvious pick) I noticed one guy STEPPED IT UP on defense -

MIKE NEAL

!!! 2 SACKS, 3 TACKLES FOR A LOSS, HE CAME TO PLAY AND DESERVES CREDIT.



Least valuable player of the game:

SO MANY OPTIONS BUT I'M NOT GOING TO SINGLE OUT ANYBODY.

THE ENTIRE DEFENSE

(other than Mike Neal and Clay Matthews)

GETS IT THIS WEEK

.



Next week:

Thanksgiving morning right now and almost time to head home because my family eats very .. very early .. like 11:00-11:30 AM! I had a good feeling last week but the defense disappointed. I'm not fearing the Lions' secondary. I think Flynn tosses for 270 yards, Lacy runs for 120, and Nelson catches 3 TDs (while being targeted 8 times and catching all 8 thrown to him).

Clay Matthews has a big game and gets whatever stupid fucking award the most annoying, useless, ear-torturing, asshole, dicks that Joe Buck and Troy Aikman handout at the end of the game

. I only dream that one day

Gus Johnson and Charles Davis

get cloned to announce every game ever played forever. If you search twitter during games Buck and Aikman announce you'll notice everybody in the world hates them. Yet, if you search for Johnson and Davis during games you see nothing but praise because they are the best! Too bad the dumb idiots as Fox don't realize this !!

Blah Blah Blah, final score? Packers 34 - Lions 20

!!!

---
Week 13: 11/28/2013, At Lions - Loss 40-10



Phrase that sums everything up:

A TOTAL BRUTAL ASS KICKING !!!!!!!!



Summary & thoughts:

I have never seen the Packers get their asses kicked in all phases of the game in my life.

EVERYTHING, EVERYBODY, PLAYERS, COACHES, BALL BOYS, CLIPBOARD HOLDERS, ETC .. just flat out got their ACES KICKED

!!!

UGLY UGLY UGLY

!!!

The defense: Where to begin? Everybody sucked! The odd thing is we got FOUR TURNOVERS AND STILL LOST. I usually say that if we get turnovers we should win the game.

BUT NOT WHEN THE OFFENSE IS COMPLETELY INEPT

!!! Packers were TOTALLY OUT PHYSICALLED everywhere. Everybody on the defense and offensive line just got practically neutered out there. Stupidity out there was everywhere. Morgan Burnett just throwing his body at Calvin Johnson and bouncing off him exemplifies how dumb the defense played. It made me miss Charles Woodson because in his prime he was one of the smartest players I've ever seen. Sam Shields played a good game I thought and he's proven his cover skills rank up there with the leagues best.

Dom Capers is a complete total joke. He's had HOW LONG TO MAKE ADJUSTMENTS? Can't stop the pass then they can't stop the run. Yeah, who else you going to put as defensive coordinator? Who cares! It can't get any worse! Giving up hundreds of yards through the run. Guys in position to make plays yet bouncing off guys like I did when I played football in 9th grade at 5'2 90 pounds and tried to tackle big guys who already hit puberty. Yet the coach always yelled at me to tackle, odd seeing he probably knew I was incapable of doing so .. but I tried! Nobody on the defense is held accountable. Brad Jones is as generic a linebacker as his name is simple, uncreative, and boring. WHERE WAS LATTIMORE? INACTIVE !!! The defense, when he started, DID A GOOD JOB !!! Get him out there and get fucking

NO NAME IDIOTS LIKE "MULUMBA" OUT OF THERE

!!! I JUST READ HE WAS HURT AND OUT SO NEVER MIND THAT BUT YOU GET THE POINT! Capers has proven he's useless, never adjusts, never comes up with those creative blitzes he supposedly was "known for" in he past, and fundamentals and tackling are total shit. Yes, missed tackles and not getting off blocks can be said to be the players fault.

HOWEVER, TECHNIQUE AND BEING TAUGHT OVER AND OVER AGAIN TO GO LOW AND TACKLE AND POSITIONING ONESELF TO STAY IN LANES TO CONTAIN THE RUN CAN BE TAUGHT BY COACHING AND COACHING STARTS AT THE TOP ON THE DEFENSE AND THAT'S DOM CAPERS

. He should have been shit canned after last year or even the year before seeing we went 15-1 yet lead the league in passing yards given up!



OFFENSIVELY, AGAIN, TOTAL ASS KICKING IN THE TRENCHES. BUT, I HAVEN'T SEEN THE FILM (I WISH I COULD) BUT THE GAME PLAN AND ASSUMPTION THAT OUR 5 MAN LINE COULD MAN-ON-MAN BEAT ARGUABLY BEST DEFENSIVE LINE IN THE GAME WAS A TOTAL MISTAKE

. I started paying attention to the running backs in about the 3rd quarter to see if they were helping the weak, feeble, and undersized offensive line. Every time we passed the backs did that dumb little juke and went out on pass patterns without blocking anybody!!! I usually give McCarthy the benefit of the doubt but that's on him, the offensive game planning, and bad play calling.

I'm probably in the minority but I don't fault Tramon Williams for jawing it up and tangling it up with the Lions (oh yeah, and shoving a referee but I bet it was probably wasn't intentional). At least he SHOWED SOME EMOTION AND FRUSTRATION OUT THERE. Can't say the same for the rest of the defense.



Player of the game:

Mason Crosby

hit a 50+ yard FG. He was our offense ..

MVP MVP MVP

!!!

I praise Aaron Rodgers for throwing the clipboard away on the sidelines. That's my play of the game

!



Least valuable player of the game:

EVERYBODY !!!!!!!!!!!!!!!!!!!!!!!!!!!!!!!!!!!!!!!!!!!!!!!!!!!!!!!!!!





Next week:

HOME against Atlanta. If it was on the road I would say we get our asses kicked. Whether or not Rodgers plays the confidence factor of this team and fans = about 3/10. I'm going to go

Falcons 27 - Packers 24

. Falcons win on a game winning 30 yard FG as time expiries as the defense can't get off the field.

---
Week 14: 12/8/2013 - Vs Falcons - Win 22-21



Phrase that sums everything up:



Lloyd: "What are my chances?
Mary: Not good.
Lloyd: You mean, not good like one out of a hundred?
Mary: I'd say more like one out of a million.
Lloyd:

SO YOU'RE TELLING ME THERE'S A CHANCE ....YEAH!! !!!!!!





Summary & thoughts:

Lions lose, Vikings lose (even though they are out of it, just put that in there for laughs seeing they lost in such heartbreaking fashion). PACKERS ARE ONLY 1/2 GAME OUT OF FIRST! I love games in the cold and snow. When I was a young chap playing football in my youth I loved playing in snow. Just brings out the manliness in me I guess! So when I saw all the snow Sunday there were sure to be an exciting game

s

everywhere.

During the losing streak, we needed guys to step up and nobody did. BUT SUNDAY,

Johnny Jolly, Jerrett Bush, Matt Flynn, Tramon Williams, Sam Shields, ANDREW QUARLESS

(yeah, I've bashed him a lot but he had a great redemption game)

, Mason Crosby, and Tim Masthay

ALL STEPPED UP! WE HAVE HOPE!!! THERE'S A CHANCE .. LIKE THE ABOVE QUOTE FROM DUMB & DUMBER THE MOVIE, THERE'S A CHANCE ... YEAAAAAAHHHHHH!!!!! A good team effort, Mike McCarthy called a brilliant game and the defense actually stepped it up in the second half !!!

As much as everybody hates him, we have to credit Dom Capers for whatever halftime adjustments he made which actually led to a DRAMATIC STOP in the fourth quarter instead of a DRAMATIC FAIL

!!! Considering the field conditions, Mason Crosby going three for three in FGs was huge and the difference in the game. Matt Bryant's miss from a long distance showed that kicking over 50 yards in the conditions was not an option. Yet, if the Falcons would have tried the FG in the 4th quarter to win the game (like I predicted), who knows, maybe he would have summoned up the strength and we would all be bitching now that we lost and the year was over.

Like in 2010, and years before, Mike McCarthy has shown that when our backs are against the wall and it's do or die, the Packers come ready to play. Can we pull off the same miracles for the rest of the year? TIME WILL TELL but

THE CONFIDENCE we got in this game was THE GREATEST OUTCOME

we could have asked for (other than winning obviously).

DID YOU NOTICE? I'VE NOTICED IT ALL YEAR!

Jordy Nelson was targeted FOUR TIMES and caught ... you guessed it ... FOUR BALLS

!!! EVERY TIME it's thrown to him it seems like he catches it ... because he does!



Player of the game:

JOHNNY JOLLY

gets it in my book.

HE STUFFED THE RUN

and considering how the defense got pulverized in past weeks unable to stopped the run, he was my difference maker in the game. Jerrett Bush gets the runner up award. People have always hated him but if you check out my 2010 Packers review you will notice

I'VE ALWAYS BEEN A BUSH FAN

. His contributions on special teams alone throughout his career have made him worth being on the team.

PLUS, remember the SUPER BOWL AGAINST THE STEELERS? WHO HAD A PICK AND STEPPED UP? JERRETT BUSH AND PAT LEE

!!! John Madden once said over and over again in Madden football '91 I think (THE BEST ONE IF I DO SAY SO MYSELF) that "

BIG PLAYERS MAKE BIG PLAYS IN BIG GAMES!

" Jolly and Bush did Sunday!



Least valuable player of the game:

Ehh .. we won.. I can't give the dubious award to anybody this week because we won and that's what we needed!



Next week:

It's Sunday morning and I'm sick. But a few days ago I was in the shower contemplating the game and the final score of

Cowboys 28 - Packers 20

popped in my head. When defenses suck as bad as the Cowboys did on Monday Night the

law of averages

the follow week comes into effect and only a late score by the Packers makes it 28-20 instead of 28-13.

---
Week 15: 12/15/2013 - At Cowboys - WIN 37-36



Phrase that sums everything up:

Thank you Tony Romo !!! AND SUCK IT COWBOYS PLAYERS, COACHES, FANS, MANAGEMENT, ETC !!!

TOTAL HUMILIATING LOSS

HAAHAHAHAH I LOVED IT !!!



Summary & thoughts:

I HATE DALLAS. And after the first half I figured the game was over and the excitement level of the second half would be minimal. It FELT LIKE THE 90S all over again! Penalties going against the Packers, Dallas moving the ball at will, defense nowhere to be seen, safety play of Burnett and Jennings beyond pathetic, and Brad Jones his normal pathetic self trying in vain to tackle anybody. TO MAKE THINGS WORSE, Joe Buck and Troy Aikman in the book were calling the game which made it feel even more like 1995 having to hear his annoying as nails on a chalk board voice! IT SEEMS THAT ALL AIKMAN IS GOOD FOR IS DEBATING PASS-INTERFERENCE PENALTIES.

SO WHEN WE WON THE GAME, I GUARANTEE BUCK, AIKMAN, JERRY JONES, TONY ROMO, AND JASON GARRETT ALL HELD EACH OTHER AND WEPT LIKE BABIES !! OHHH I COULD TASTE THE TEARS !!!



But then, like a phoenix rising from the ashes, THE COMEBACK BEGINS!!!

NOW, THE BIGGEST QUESTION ABOUT THE WIN IS: DID DALLAS LOSE THE GAME OR DID THE PACKERS WIN THE GAME

? To me, Dallas lost the game. Just zero excuse to have such horrible play calling and just LAUGHABLE SEEING TONY ROMO SCREW IT UP AGAIN!!!

WHO STEPPED UP? FLYNN, BOYKIN, LACY, ... EVERYBODY ON OFFENSE !!! AND WHO ELSE?

TRAAAAAAAAMOOOOOOONNNNNNNNN WILLIAMS AND SAM SHIEEEEEEEEELDS

!!!!!!! AND THE DEFENSIVE LINEMAN BOYD TOO WHO I DIDN'T EVEN REMEMBER WE HAD !!! MIKE DANIELS TOO !!! So great seeing Raji and Daniels in the backfield. FLASHBACKS TO 2010 !!!

HISTORICALLY, IT'S ALMOST LIKE THE

FIRST HALF WAS PLAYED IN THE 90S AND THE SECOND HALF WAS PLAYED IN THE 00S

!!! Ohhhhhh how this win feels great !!!



Player of the game:

SAM SHIELDS AND TRAMON WILLIAMS

. IF YOU READ THROUGH ALL THE WEEKS PREVIOUSLY I'LL TAKE THOSE TWO GUYS OVER ANYBODY IN THE LEAGUE AT CORNER !!! Just like in the 2010 playoffs. Eagles - Tramon Williams gets the big pick. Falcons - Tramon Williams gets 2 picks. Bears - Sam Shields clinches it. Big players, make big plays, in big games. HEY I SAID THAT LAST WEEK !!!



Least valuable player of the game:

Ehh, Brad Jones, see every single week before. Plus, oddly enough, Clay Matthews who missed sacks, was a non-factor, and got beat man-on-man many times. Morgan Burnett too who apparently just refuses to tighten his coverage up and allow gives the stupid 3-7 yard buffer zone to catch the ball before tackling them.

Word to Burnett; play tighter, break on the ball, and try not to let them catch it!





Next week:

Early Sunday morning while typing this and the snow is falling out there like crazy. Running the ball today for both teams will be the deciding factor. Rather, stopping the run will be the key factor. But, if the snow stops by game time I wouldn't be surprised if it ended up not being a factor. With no Johnny Jolly I think the run defense struggles. Brad Jones misses 16 tackles, A.J Hawk tackles 10 ... offensive lineman but running into them, and Morgan Burnett (who I admit is a pretty good tackler) ends up with 17 tackles.

Steelers 19 - Packers 16

.

---
Week 16: 12/22/2013 - Vs Steelers - Lose 38-31



Phrase that sums everything up:

1: Thank You Eagles !!! 2:

GO FIGURE, THE GAME DIDN'T MATTER ANYWAY

!!! 4: THE BEARS STILL SUCK
One of the ugliest games I've seen in a while penalty wise and special teams wise. Time mismanagement was huge and played a huge factor in the game and the game will be remembered for that because it happened at the end of the game and is fresh in everybody's short term memory. But again, look at the final score. Defensive play was again below the median of average which ultimately played a bigger factor in the loss.

What I take out of this game is that

the decision to sit AARON RODGERS was and remains CORRECT

. WHY? One need only look to our other two superstar players Clay Matthews and Eddie Lacy. CM III re-injures his hand and is probably out for the rest of the year and Lacy re-injures his ankle.

Exactly what was feared would happen to Rodgers

!!!

Many other reasons the Packers didn't deserve to win. It's FESTIVUS TODAY WHILE I'M TYPING THIS SO HERE IS THE AIRING OF GRIEVANCES:

I figured in the slop the defense would step up but nope it didn't and if you give up 38 points, a 100+ yard rusher, 100+ yard receiver, and sack the QB only once you don't deserve to win.
Defense makes a great stop at the end of the game only for Nick Perry (who has been a total bust as a #1 pick so far) JUMPS OFFSIDES LIKE A COMPLETE IDIOT !!! When I played football in 9th grade my coach once said "

if you jump offsides on a 4th down punt (in this case a FG) he will personally walk out onto the field and kick you in the ass in front of everybody.

" Shawn Slocum special teams coach should have done that. But, he also should have reminded everybody

DON'T JUMP OFFSIDES

(even though he may have done so but considering what happened probably didn't !!!
BJ Raji's personal foul was a momentum killer and he's

GOT TO KNOW BETTER

. Pittsburgh in a way got redeemed from the 2011 Super Bowl when late in the game one of their players got called for a personal foul which ultimately contributed to them losing the game. What comes around goes around I guess.
A blocked FG should never happen, Marshall Newhouse was in the interior part of the line and got his ass kicked. Granted, the refs totally blew the call and Tomlin and/or the refs didn't realize if they challenged the Pittsburgh guy being down by contact they probably would have got the ball back and the "batting" penalty would have been erased.
Quarless dropped pass was huge. Granted he had a good catch and run late though but he also ran into Flynn (I think, would have to see it again) causing him to throw a pick-6.
Flynn should be told not to run when coverage breaks down. He never runs for a first down and doesn't have the moves or speed to get away. Plus, of course, he fumbled in one of the most critical possessions of the year.

MD Jennings AGAIN STARTED ... WHY!!!???

He missed tackles early and even pussied out on one feeble tackle attempt and didn't even touch a guy. Richardson (AGAIN) comes in and makes solid tackles ... begs the question ...

WHY ISN'T RICHARDSON STARTING

?
Also, Brad Jones was AGAIN PATHETIC. When he got hurt, GOOD THINGS HAPPENED AND LO AND BEHOLD THE GUY I'VE BEEN SCREAMING TO BE ON THE FIELD STARTING (

JAMARI LATTIMORE

) COMES IN AND FORCES A FUMBLE !!! Brad Jones is (as I've said all year) as generic a player as his name is unoriginal. He makes no big plays and makes zero difference in games. AJ Hawk, on the other hand, continued his solid year and career. Yet, seems to get a lot of tackles chasing guys from behind.
Clay Matthews goes down again and the pass rush vaporizes completely. Nobody stepped up and

the #1 picks Perry and Datone Jones contribute nothing

.

Special teams give up a 46 yard and 41 yard kick return and punt return respectively. In the cold field position is huge and special teams did help.

Yet, HYDE played PHENOMENAL AGAIN and his kick return late put us into position to win the game

.
Roethlisberger was hit twice in the game. It says in the box score that Stoneburner hit him once but I don't know how that's possible seeing he doesn't play on defense. Maybe he touched him out of bounce on a special teams play !!!
I've said all year that if you throw it in Jordy Nelson's vicinity he usually makes the catch and good things happen. Yet, he was only targeted 5 TIMES catching 3 and Boykin was targeted 13 TIMES while catching only 5. To Boykin's credit, he's for sure established himself this year and proved he belongs on the team.
FINALLY, AS WE ALL KNOW, the time management at the end of the game was costly.

The false start by LANG was INNNNNEXCUUUUSABLE

and with the way Starks was running and the way the offensive line (which, to their credit, was did a great job run blocking) was moving the Steelers line, I think we would have scored and tied the game.

People who blame Mike McCarthy are idiots

. People who don't like his play calling are IDIOTS TOO! Blaming Dom Capers is acceptable and encouraged through in my book !!!

BUT IN THE END NOTHING REALLY MATTERED ANYWAY BECAUSE THE BEARS WERE EMBARRASSED BEYOND BELIEF ON NATIONAL TV BY THE EAGLES !!!



I have to say it's ironic that the last pass of the game sailed high off the finger tips of Boykin giving the Steelers the win. Remember the last play of the Super Bowl? Roethlisberger's last pass ... goes high and we win the game. GO FIGURE !!!



Player of the game:

James Starks and Eddie Lacy.

I believe Lacy is HANDS DOWN THE ROOKIE OF THE YEAR

this year. His running has changed our ENTIRE offense this year and given us balance and (most importantly because we are a passing first offense) an EFFECTIVE RUNNING GAME. Also, Sam Shields proved again he's one of the top corners in the league and this off season if it comes down to either Shields or Williams I think Shields should be kept as Williams ain't getting any younger.

BUT, I hope both stay because I find together they are one of the best 1-2 corners the Packers have had in recent memory

.



Least valuable player of the game:

One play doesn't make or break a game. However, Sunday, if one play here or there goes our way, we could have win the game. I'm going to hand it to Nick Perry this week mostly because he contributed nothing on defense (

HE DIDN'T EVEN MAKE A DAMN TACKLE

) and jumped off sides like a fucking idiot completely ruining any chance of the offense moving down field into FG range (which, GO FIGURE, THEY ENDED UP DOING) and kicking a FG to send the game into OT. For a #1 pick, HE'S ALMOST AS USELESS AS BRAD JONES AND MD JENNINGS !!!



Next week:

The Bears obviously won't play as bad as they did Sunday night. Plus, it's amazing but as horrible as the NFC north is this year the winner HOSTS A PLAYOFF GAME !!! I can't predict yet. Check back later when my psychic powers are more finely tuned. Get this, it's possible that the Packers would face the 49ers AT Lambeau in the playoffs. Think back to week 1, it's almost like this is a completely different team we are watching. Plus, AS I PREDICTED, the run-option is pretty much as dead a concept as the wildcat. Think back to week 1, that was the biggest concern. I've said it a lot in my review this week ... BUT GO FIGURE !!! UPDATE: IT'S SUNDAY MORNING AND AFTER CONTEMPLATING ALL WEEK WHAT THE FINAL SCORE WILL BE

I'M GOING TO GO 23-20 PACKERS

. Both defenses suck. Rodgers WILL be rusty because from what I've seen after bye weeks he usually comes out flat until the 3rd quarter. Cutler will make his usual 2-3 bad throws and if our DBs actually catch the balls I think we win the game. If Tramon Williams and Sam Shields beat the one-on-one battles with Jeffrey and Marshall we win. LET'S GO PACKERS !!! TAKE NO PRISONERS AND SHOW NOOOOO MERCY !!!!!

---
Week 17: 12/29/2013 - At Bears - Win 33-28



Phrase that sums everything up:

AHHHHHHHHHHHHHHHHHHHHHHHHHHHHHHHHHHHHHHHHHHHHHHHHHHHHHHHHHHHHHHHHHHHHHHHHHHHHHHHHHHHHHHHHHHHH !!!!!!!!!!!!!!!!!!!!!!!!11 HEY EVERYBODY WE'RE ALL GONNA GET LAID !!!!!!!!





Summary & thoughts:

DAMN THIS WIN FELT GOOD. THE RODGERS TO COBB PLAY WILL GO DOWN IN INFAMY AS ONE OF THE GREATEST PLAYS IN GREEN BAY PACKERS HISTORY

. When Cobb scored the touchdown I jumped up and down screaming in excitement like an idiot in my apartment. My cat, in her usually spot sitting in the bedroom because I'm screaming, probably thought I snapped and went crazy! But, what a beyond ugly game! Both teams deserved to lose and yes indeed the team that didn't suck the most won ... US!



I think I'll break the analysis this week into the good and the bad.





THE GOOD:



Good teams find a way to win and the Packers, led by Mike McCarthy, pulled it off. McCarthy always gets shit on during losses by idiot fans and when he coaches the team to victory we hear this ... crickets.. crickets..crickets. Really, it's Black Monday as I type this and head coaches are being fired as I type this. Granted, the NFC north sucked this year and the Packers got a lot of help along the way to make the playoffs. BUT,

HOW MANY TEAMS CAN SAY THEY HAD 4 STARTING QBS, 15 GUYS ON INJURED RESERVE, AND A BEYOND ALL REALMS OF PATHETIC DEFENSE AND MAKE THE PLAYOFFS? NONE !!!!

How McCarthy is not in the conversation for coach of the year is a travesty (well, maybe not as far as a travesty but you get the point). Also, those complaining about McCarthy not running the ball must look at the box score. THIRTY-THREE CARRIES TO THE RUNNING BACKS!!!
Aaron Rodgers proved something I've said all year which is the quote from John Madden from Madden football 1993 on the Super Nintendo. "

BIG PLAYERS MAKE BIG PLAYS IN BIG GAMES

." Indeed, as I predicted, he had rust early.

BUT THEN, LED US TO GLORIOUS VICTORY

!!! In comparison, look at Jay Cutler, he's made nothing but BAD PLAYS in BIG GAMES.

IT'S SO FITTING, THAT PERHAPS CUTLER'S LAST PASS AS A CHICAGO BEAR WAS PICKED OFF BY SAM SHIELDS

. If I've said it once I've said it a thousand times, but Jay Cutler is the ULTIMATE poor man's BRETT FAVRE. He makes outstanding throws and can win games from you but just like Favre, when the game is on the line he throws a bone-headed interception.
James Starks averaged 8 yards a carry! I've said it all year, spell him more with Lacy to keep him healthy because he makes plays. SURE ENOUGH, STARKS again an unsung hero!
I tweeted out during the game "

I LOVE YOU JORDY NELSON

" In the 4th quarter, when the game on the line, you want the ball in the hands of your best players.

One EXCELLENT play call by McCarthy to call the back shoulder pass to Nelson. All those idiots who say "ohhh yeah the play calling by McCarthy is always crap" again can piss off

. The 3rd and 1 incomplete pass to Boykin earlier in the game was said by many to be a bad call at the time. Yet, think back to the Super Bowl year. How many times did we execute and get first downs in short-yardage situations? A LOT. Case in point, 4th and 1, the pass to Nelson I just mentioned, IT WORKS. Complainers about the play call? SILENT!
As bad as the defensive has been (see below), you have to give credit that lately they have been getting the job done late in games! The ultimate definition of a bend but don't break defense. Hey, I said that in 2010 and we won the Super Bowl ... but that year we had the #2 defense in the league!
Finally, I said last week that the game would be decided by Sam Shields and Tramon Williams. Yes, Jeffery and Marshall had some big plays but they came on broken coverages and bone-headed Burnett not covering the deep guy in a cover-two play call. Jeffery and Marshall didn't beat us and they weren't. Shields and Williams (if you haven't noticed all year, I've always been a supporter of the two) GOT THE JOB DONE!
THE BAD:
I shake my head continually at Morgan Burnett. Always peaking in the backfield and making zero plays other than seemingly tackling guys after they get first downs. Same for MD Jennings, a guy who makes zero big plays. So what's my evidence?

ALL YEAR, ZERO INTERCEPTIONS FROM ANY SAFETY ON THE ENTIRE TEAM!

Yeah, the players were never in position to step up and make big plays. BUT, I fault Capers as well for not PUTTING THEM IN POSITION to make big plays.
Good seeing Brad Jones didn't play because all year I've been lobbying for Lattimore to get more playing time. Go figure, he gets playing time and plays the worst game of his career. I often hear on the Bill Michaels Show that he is "assignment unsure." Indeed, that showed in the game. BUT, the regular season is now over. YOU MEAN TO TELL ME that no defensive coach could COACH him to make him "ASSIGNMENT SURE???"

Datone Jones, the #1 pick, MISSING IN ACTION

!!! Is it too early to call him a bust? He's made some plays when he's in the game and had some sacks ... so where is he? Maybe put him in so we can get SOME PRESSURE ON THE QUARTERBACK? Obviously all year the pass rush has been pathetic. Maybe put another guy out there (LIKE THE #1 PICK) to generate a pass rush????
NICK PERRY! Ohhhhhh the effort on the broken coverage Forte run was

INNNNNEXXXXXCUSSSSSABLLLLEEEEEEE

for ANOTHER #1 pick! Enough of the "ohhh, he's injured gibberish talk!" Look at COBB and LACY!!! They play hurt and they PLAY GREAT !!!!!!! Why can't Perry and Datone Jones do that !!!!??? A POSSIBLE ANSWER: offensive guys playing hurt do well ... the offense is COACHED WELL !!! The defensive players who play hurt STINK UP THE JOINT! A reflection on the coaching? I think that argument is legitimate.

Player of the game:

Rodgers, Starks, Nelson, and Cobb. I don't need to go into the details because I'm sure you all watched the game and know why!

BUT, WE MUST ALSO GIVE CHRIS CONTE

of the Bears credit! Having a ball go right through his hands and blowing the final coverage on the Cobb TD was a HUGE factor and we must thank him for helping us win!



Least valuable player of the game:

I'll sum it up easily: See the players mentioned above under "THE BAD" section.



Next week:

Right now,

I'm STILL GLOWING FROM THE WIN

!!! So predicting now isn't a good idea. I'll probably update Sunday morning like I've been doing a lot lately.

OK, IT'S SUNDAY MORNING, TIME TO PREDICT !!! Tough one !!! This game is going to be one hell of a

DICK-SHRINKER

©. A term copyright Michael Kramer, 2010, that may not be used or disseminated in any way or form without the express written consent of me. Unless if it is said unbeknownst to my knowledge with proper acknowledgment and credit given that the term is attributed to my idiotic-drunken brain's creative ability to create new words and catch phrases.

In this cold whether, fans have to be TOUGH. BUT, PLAYERS HAVE TO BE TOUGH TOO! I think the

deciding factor

of the game

comes down to the level of physicalness both teams display

. Unfortunately, I've mentioned a lot this year that the Packers were "

OUTPHYSICALLED

" in their losses. Indeed, the 49ers defense is a solid tackling, hard-hitting, and formidable foe. Their offense, as we've seen in the past few years, has shredded our defense. I believe this game is the

ULTIMATE TEST FOR DOM CAPERS

. He's failed us

ONE TOO MANY TIMES

in the past and as history shows us has been unable to find a way to contain the high-powered offense of the 49ers. Sadly, I'm going to have to go with the 49ers in this one.

If Capers fails us and the 49ers dominate, I want his ass gone by HIGH NOON TOMORROW

!!!

The NFL is weird. Often times, when high scoring games are predicted, defenses step up and the game ends up being low scoring. The same is true when low scoring games are predicted. So, even though it's gonna be cold. I'm gonna go with

49ERS - 30 PACKERS - 27 :(

Similar to the NFC Championship game against the Giants game in 2009, we lose on a game-winning field goal with no time left on the clock. I HOPE I'M WRONG !!! GO PACKERS !!!!!!!

---
Week 17: 1/5/2014 - Vs 49ers - Lose 23-20



Phrase that sums everything up:

Go Brewers



Summary & thoughts:

Damn, look above, I predicted we lose on a game-winning field goal with no time left on the clock. I NAILED THAT and nailed the final score minus a TD by each team.

Off the top of my head, without leaving my computer chair, I'll toss out what possible explanations I have heard why the Packers lost and the 2013 season came to an end.



"I, as a Packers fan, am the smartest one in the world and expert source of knowledge about the team. I attribute the Packers loss Sunday in under 140 characters to ..."



Micah Hyde dropped an interception. If he catches it, we win the game!
Losing Sam Shields allowed the 49ers' wide receivers to dominate.
Just too many injuries to overcome.
Packers are not a cold weather team.
Again, we didn't SPY Kaepernick and he ran wild and free.
Kaepernick played great, tip your hat because he was the difference maker.
The safety play has sucked all year and if we get a good safety in there we win.
Dom Capers time has come, it's time for him to go.
The defense just can't get off the field. They suck.
Mike McCarthy's play calling was pathetic and it showed yesterday.
The 49ers are were just the better team.
We didn't execute in the red zone.
MD Jennings should be playing in the arena league.

My grandma can tackle better than the guys on our D.
Ted Thompson has failed to draft and develop.
Ted Thompson has had too many misses in drafts lately.
Ted Thompson needs to solid free agents.
Losing scouts in the past few years had led to us drafting bad players.
The offensive line didn't get it done in the trenches.
The defensive line didn't get it done in the trenches.
Eddie Lacy didn't get the ball 35 times.
McCarthy.
Thompson.
Thompson and McCarthy.
McCarthy's decision to call a running play to Cobb cost us the game.
Morgan Burnett, him and him alone.

We are just too young and inexperienced.
Well, we shouldn't have been in the playoffs anyway so it was a good year to just get this far.
The refs blew it and cost us the game.
We just missed too many opportunities.
If Tramon Williams pick off that pass in the end zone we win.
The 49ers cheat and paid off the refs.

Gotta place the blame on Aaron Rodgers. He held on to the ball too much and didn't make the big plays.
It's all rigged, they threw the game on purpose. It's all a conspiracy, a conspiracy I tell you!
Barack Obama
Allowing 5.6 yards per carry just ain't gonna cut it in this league.
James Starks wasn't used enough.
They aren't tough enough and need to grow a pair.

Jordy Nelson is great, he catches everything so throw him the ball 30 times a game.
Brad Jones sucks, Lattimore should have been in there.
The linebackers play just didn't get it done cause they all suck.

Datone Jones froze on the sideline to the bench and was unable to be thawed out to go on the field.
Teams who pay their QB a trillion dollars a year can't afford other talented players.
Nobody is a RA-RA guy.

Capers' blitz on 3rd and long backfired and with nobody watching Kaepernick in such a huge situation the game was lost.
The NFL is a dying sport and it showed yesterday.
We let Charles Woodson go.

The fans didn't buy every ticket.
The fans.
We just don't have any leaders out there.

The owners.
The economy.

We suck.
We suck. Fire everybody there is no excuse for losing in the playoffs.
We suck. Fire everybody there is no excuse for ever losing.
Global Warming.

We suck. Anything other than an undefeated season is unacceptable. After every loss all coaches should be fired and all players released.
We shouldn't have replaced Brett Favre with Aaron Rodgers. Favre would have won this game.
Brett Favre wasn't out there.
Mike Holmgren should still be our coach.
Ron Wolf retired.
I didn't wear my green underwear like I usually do.
Damn !!! Came up with 62 off the top of my head !!!



Take your pick of all the above to explain the loss to anybody. But, as we all know, OR SHOULD KNOW, you cannot summarize or attribute a win, loss, season, offense, defense, etc. to one sentence. Scapegoating is one dangerous thing. You can read about the dangers of doing so in 2011 history research paper I wrote about how the Jews were scapegoated by the Hitler and the Nazi's. Yeah, that's an extreme form. But, in football, winning or losing depends on these factors:

A+B+C+D+E+F+G+H+I+J+K+L+M+N+O+P+Q+R+S+T+U+V+W+X+Y+Z

= success of failure. Generate your own 26 factors that led to defeat and you can write a novel on why we won or lost the game. Ehh.. that's too much work. Just pick one of the above, look smart, start a conversation, discussion, or debate, and talk football. That's why we love it and we love our Green Bay Packers. Season is over, it's a record dick-shrinker out there today, and life's a bitch, she's back in heat (quote from the movie

They Live

). Go Brewers.



Player of the game:

Jordy Nelson. He catches everything thrown his way and the fact that he's not a pro-bowl player is a disgrace. Tramon Williams also deflected 3 passes and intercepted one. Also, 2 solid tackles and no missed tackles. Two guys, ALWAYS SOLID who get it done and in a big game yesterday GOT IT DONE.



Least valuable player of the game:

Ehh.. I followed the exact format this year as I did in 2010. If I write a weekly review again I'm just giving my thoughts because a game MVP or LVP doesn't decide a game yet is fun to use as a scapegoat (as I have contradicted myself by doing so compared to what I stated above).

---
Email me for questions or to offer me a high-paying job writing weekly columns because I'm such a great analyst of football.
Add me on twitter or facebook.