Blex's 2010 Green Bay Packer Review
A personal blog/review of each Packer Game during the 2010 season.
---
Jump to: Week 1, 2, 3, 4, 5, 6, 7, 8, 9, 10, 11, 12, 13, 14, 15, 16, 17, WC, DV, CH, SB

---
I just started this blog in the fall of 2010 to have a place to jot down my thoughts on my lifelong favorite NFL team. It's mostly just a personal place for me to voice my opinions and reviews of each game.
---
Week 1: 9/12/2010, At Eagles – Win 27-20



Phrase that sums everything up:

A win is a win!



Summary & thoughts:

Kevin Kolb definitely looked like crap. When Michael Vick was in the game he moved the ball and turned the momentum of the game completely around. However, as good as Michael Vick was, I will NEVER root for him. If I've said it once I've said it a million times. There are two things in life that I hate. Republicans and animal abusers! Yes, even worse is a Republican who abuses animals! Vick ran a fricken dog fighting ring! I would love no more than to see him attacked by a band of rabid dogs sometime in his life! How he is even back in the league is a disgrace. I would have given him life in prison! But yeah, he is kinda fun to watch play.

For all the off season hype, one thing I learned for sure about this game is that Aaron Rodgers IS human. He didn't have his best game. In fact, he airmailed an interception in the game. But, other than that did what he had to do which was WIN the game. Special teams was excellent and there also was only two penalties against the Packers the entire game. A stark contrast from last year!

I must say the game plan on how to beat the Packers is simple. Continually attack our weakness which is our inexperienced nickel and dime defenders. Teams should run 3-4-5 WR sets the entire game and pass like hell on Jerrod Bush and Sam Shields. Hopefully, after week six, Al Harris will solidify the secondary with Brandon Underwood and Atari Bigby also providing secondary depth. Also, the Packers need another running back if Ryan Grant is out for a few weeks. We also need DL depth after watching Justin Harrell fall. DL depth is an area of which seems to always need depth on the Packers. I definitely miss Johnny Jolly and his force on the defensive line. Not to mention, his ritualistic pass-bat-down each game!



Player of the game:

Josh Sitton! He had his guy down field 5-10 yards on running plays. Last year, I considered him the most under-rated guy on offense. Also, a tip of the hat to Clay Matthews. A true BEAST on defense like last year!



Least valuable player of the game:

None!



Next week:

I didn't make a prediction because my review was just an idea. I figured, the Bills suck so bad that it would be an easy win (which of course it ended up being).

---
Week 2: 9/19/2010, Vs. Bills – Win 34-7



Phrase that sums everything up:

Bills suck, Bills suck, Bills suck!



Summary & thoughts:

TCB - We took care of business! The Packers were favored to win and beat the living crap out the feeble Bills. After 2 games, the league MVP is definitely Clay Matthews. Holy crap is he good! It's early yet, so it's best to work Brandon Jackson into the offense slowly. Our offense is built around our weapons which is the killer aerial attack. Come December, when it's cold and snowy, we will need to depend on the running game more. Until then, throw it around! One comment that I made and texted to friends during the game was that A.J. Hawk's legacy to date is just being the guy you see on every running play frantically running and trying to catch the running back. For the 5th overall pick in the draft, he's played like crap and an un-drafted player like Frank Zombo would be just as good if not better at LB.

The Bills' play was definitely sad to watch. They have been my second favorite team since the early '90s when I would watch Jim Kelly, Thurman Thomas, and Andre Reed run wild around the field and they were exciting to watch. Therefore, when I first started playing video games I started playing as the Bills because playing as the Packers would be a bit too personal. I have played the Bills since I was a young kid and still have to this day on my play station 3. My good friend Paul and I literally spent an entire summer once playing Bills vs. Packers on Madden Football in 2001 or 2002. It never got old!



Player of the game:

Clay Matthews! Honestly, who would NOT make that choice!



Least valuable player of the game:

See above, A.J. Hawk.



Next week:

28-24 Bears win. The offense hasn't fired on all cylinders yet and the Bills offense was as good as a high school team. Mike Martz will exploit our weakness at nickel and dime back and the Monday night crowd at Soldier Field brings upset. Hopefully I'm wrong and we win again!

---
Week 3: 9/27/2010, At Bears – Lose 20-7



Phrase that sums everything up:

Penalties!!!



Summary and thoughts:

We definitely didn't deserve to win this one. The Bears did not beat the Packers. The Packers beat the Packers! There is no excuse for nearly 95% of the 18.

SPECIAL TEAMS - SHAWN SLOCUM MUST GO

. I said it last year I'll say it again this year. We SUCKED last year on special teams! We SUCKED in the pre-season. A kickoff return and punt return is NEVER a threat for US to run back. Yet, after the catastrophe last year, he's back this year and showing how pathetic of a coach he is. Granted, the first 2 games of the year we were great. Yet, tonight, an embarrassment on national TV! Also, the decision to keep a rookie punter again this year has his ups and downs. Mostly, downs. It's tough to learn on the job for the rookie. This goes to show that a good punter like the old Craig Hentrich, Brian Moorman on the Bills, Brian Lecher on the Raiders, etc.. DOES have its upside.

There was ZERO Running game. You CANNOT compete in the NFL with ZERO balance and nearly 100% passing. You have to show and establish some semblance of a running game. Jackson looked like a lifetime third down back. But, I'll give him a few more starts to prove himself. Brandon Chillar was CONTINUALLY beat over the middle covering a TE in a two or three deep zone. He stunk last year and so far this year he's proven to be total crap in coverage. YET, he was given a big contract in the off season! Horrible contract. A bad move by Ted Thompson. But, for all his hits, I'll still support Ted Thompson because he's built a Super Bowl contender and has had more player "hits" than misses.

I must say, the Bears looked like a 9-7 team. The Packers had correctable issues which will lead to victory if they are corrected. Or, if the season continues and losses pile up and we miss the playoffs. In the long run, I've realized coaches are hired to get fired. Penalties will someday be the leading culprit which will possibly lead to the ultimate demise of Mike McCarthy.

The first two games the Packers looked OK. Hopefully, this is just a wake-up call that we aren't as good as we thought we were. Come January 2nd, 2011, the Bears will be probably be playing for nothing and Packer for home field advantage in the playoffs. Jay Cutler is not an all-pro QB. He is the prototypical poor man's Brett Favre. He is subject to four or five interceptions each game while making another four or five amazing throws. I also just can't believe his perpetual DRUNKEN look. Every time I see him on TV he seems to look like he's zoned out drunk and ready to pass out!



Player of the game:

Aaron Rodgers

. He looked like an MVP. He kept us in this game when we should have been blown out. There was zero running game yet he still finds the open receiver. Props to Jermichael Finley who is already, I think, the one of the best tight ends in the game.



Least valuable player of the game:

Entire special teams. See above!!!



Next week:

It will be ugly, because the Detroit Lions look a lot better so far this year. But, our defense is no match for the feeble Shawn Hill passing attack. I predict a close game until the 4th when we throw down the dagger. Packers 23 - Lions 13.

---
Week 4: 10/3/2010, Vs. Lions – Win 28-26



Phrase that sums everything up:

Good teams find a way to win, bad teams find a way to lose.



Summary and thoughts:

The saying never gets old. Packers were heavily favored to win and they won. Win is a win. I definitely give A LOT of credit to the LIONS. They moved the ball on the Packer defense with mostly GOOD football play. I believe the Lions had one of, if not, the best game plan delivered all year against the Packers. They took advantage of every mismatch there was and succeeded (see Calvin Johnson man up vs. Charles Woodson). BUT, they will NEVER be a good team until they get that

KILLER AGGRESSIVENESS AND CONFIDENCE

to WIN. Last year, this year in MN, and in todays game vs. the Packers, the Lions are down by a few points in the 3rd or 4th quarter with a 4th down and short in their opponents territory. In typical loser-like fashion, they PUNT. Every great team, it has been scientifically studied, improves winning chances dramatically by going for it on 4th and short between the 40 yard lines. Until the Lions grow a pair of BALLS, they will never have a great winning team. Definite props to Shawn Hill. To me, he's looked like one of the best, if not THE best backup QB in the league. A few more good throws and breaks and the Lions pull the upset.



Player of the game:

Tramon Williams. Flat out

AMAZING

coverage and passes defensed. One of the most under-rated guys on the team for sure. Yeah, Charles Woodson had the pick-6 and he's the reigning defensive player of the year. But, for an undrafted free agent, Ted Thompson found a future (if not present) superstar corner that can match up against any WR in the league in TramonWilliams.



Least valuable player of the game:

MANY LVPs this game! First and foremost, the entire special teams unit! There is NO REASON AT ALL THAT SHAWN SLOCUM SHOULD STILL BE SPECIAL TEAMS COACH. NO KICK RETURNS PAST THE 30 YARD LINE. Yet, for opponents, ALWAYS STARTING PAST THE 30.

A very pathetic game by Jordy Nelson. Under the Mike Holmgren way of coaching, he would be CUT after fumbling twice in the same game. But, really, we don't have anybody better or a threat to take one to the house.

ALSO, at the end of the half. PATHETIC COACHING! Horrible!! Beyond bad coaching on special teams. Jason Hanson does NOT have a LONG leg anymore. Even my mom knows that! I said before the 55 yard field-goal attempt to take a timeout and get somebody back for a possible missed short field goal return! The advantages, the field goal kicking team has their offensive linemen in the game and NOT their kick coverage unit. That's why end-of-half field-goal returns have historically got run back for TDs. It creates a natural mismatch of offensive linemen trying to tackle a skilled kick/punt returner WITH blocking in the returners favor. Yet, in pathetic Shawn Slocum coaching fashion, after the timeout, there was STILL NOBODY BACK for the return. As luck would have it, the kick ends up SHORT and bounces in end zone right-smack where a return at the end-of-the-half could have been started. There needed to be a CHANCE to put points on the board. LUCKY he missed, would have been difference in the game. But, for not even TRYING, INEXCUSABLE coaching!!

One more LVP for the game. It is a

TOTAL TOTAL MISTAKE

to put JERROD BUSH as the nickel back. He got burnt 3 TIMES in the first half. Once for a TD and twice on third down. He also is a crap tackler and cover man. There is no reason why Jerrod Bush should be playing anything OTHER than special teams (of which I will give him credit for being a good special teams player).

It was said after the game that the post-game locker room felt like the team lost. After this many notes for the LVP, that was definitely very fitting!



Next week:

I predicted this week this "Close game until the 4th when we throw down the dagger. Packers 23 - Lions - 13." It was closer than I thought. Either way, I'm 4-0 on Packer W/L predictions this year. Next week, at Washington, I predict that it all hits the fan! Donovan McNabb will tear apart the secondary! We've got by so far this year, but we get the ultimate wake up call in a Redskins blow-out. Idiot gut-reaction-dumb-as-can-be Packer fans will then overreact after the big loss calling for coaches heads to role and people to be immediately fired. Then, the Packers, just like last year, pull together in the second half of the season, winning the majority of games with a dominate 1-2-3 punch of every running back on the team. We ride the December steak to the playoffs and Super Bowl making all the fans who overreacted after the Redskins loss look like total idiots. Redskins 42 - Packers 10. You heard it here first!! I hope I'm wrong!!

---
Week 5: 10/10/2010, At Redskins – Lose 16-13



Phrase that sums everything up:

Relax!



Summary and thoughts:

I predicted a 42-10 loss. Yeah, I was wrong and definitely over estimated the quality of the Redskins offense. I just felt a good ass kicking coming on this week. I really would have preferred that instead of having to lose in such nail-biting agony. McNabb isn't what he used to be. Over threw a ton of passes but made good throws when they counted. He plays smart, very smart, and is easily a future hall of famer. But still, I predicted the correct winner and loser of the game. That makes me 5-0 so far this year in Packer W/L predictions. Whether you like it or not, injuries were the biggest factor. Without Clay Matthews, the defense STILL held it's own but the QB has clearly more time to throw and pick apart an injury depleted secondary.

There's 2 ways to react to this game. I've already seen it and it drives me nuts to see so much idiotic brain-dead idiots already ready to start cutting heads off to roll down Main Street in a drunken frustration that their beloved Packers lose. Yeah, I don't like losing too. But, there's a gut-reaction and a logical-reaction approach to losing. Being a life long Brewer fan, I'm used to losing. I'm a professional loser. It's one of the only things I have confidence in!



The idiot-typical-uneducated-redneck way to react:

"WE LOST!! FUCK IT!! FIRE THOMPSON, FIRE MCCARTHY, BENCH RODGERS, TRADE FOR EVERY FREE AGENT OUT THERE NO MATTER THE COST OF FUTURE DRAFT PICKS!!"



The educated way to react:

Considering the injuries the team had going in and the injuries suffered in the 1st quarter, the Packers and Redskins both played sloppy offensive football but steady defensive football. With injuries at all 3 levels on defense, the Packer back-ups did a great job but couldn't hold back the Redskins in overtime. The offense, one of the best in the NFL, struggled severely on third down with normally sure-handed receivers dropping numerous balls.

With no NFL team unbeaten after week 5, there is absolutely NO dominant team in the league so far this year. Even the defending champ Saints have a 3-2 record and are struggling. So, get it through your heads idiot other bloggers and message board posters, it's not Ted Thompson's fault we lost. Sure, the play calling was suspect. But, honestly, does anybody think that THEY could do a better job? Sometimes you lose, it's happening around the NFL this year. Get used to it. Life goes on. Relax. Lets see, we went into this year built almost

ENTIRELY ON THE DRAFT BY TED THOMPSON

and were Super Bowl FAVORITES. How many other teams had that going for them? ZERO. In the '90s you could win with free agents and trades and plugging a player in. In the '00s you won with player development and youth. Ron Wolf won by filling holes. Thompson doesn't. He hasn't and never will. If a fan thinks he's going to start doing it now they are just stupid as crap and aren't true-educated knowledgeable Packer fans!



Player of the game:

Clay Matthews. Even though he missed a large amount of time. There's no doubt, when he's in there he takes over the entire game. A prefect example was today's game. When he's in the game, he's as good as a Reggie White in his prime! When he's not, you pray for everybody else to make a play or make something happen. Tip of the hat to

Desmond Bishop

as he played a hell of a game.



Least valuable player of the game:

Play calling. No player this week. Considering the injuries, the subs did a GREAT job. Charlie Peprah had amazing stops in the open field but got burnt on one play for the TD. Nobody stuck out as individually having a "bad" game. Maybe Chad Clifton but with his injuries I can't fault him for this week's LVP. He looked like he got his ass kicked on speed rushes off the end. I also give thumbs down to special teams (like usual) which gave us continually bad field position. Also, mostly the play calling was due to the lack of actually HAVING a working running game going and NEVER running the ball or even lining up under center ON third and short to keep the defense GUESSING IF we would run the ball. That sole fact, led to the futility on 3rd and short. But, it's really a combination of a LOT of things. So again, no specific player this week. With all the injuries, it's really hard to fault anybody specific until good health returns.



Next week:

Miami's quarterbacks suck and they don't have the weapons to dominate through the air. I've always thought they are over rated. The wildcat worked last year but this year it works for total crap. We right the ship next week and everybody is ready to crown us Super Bowl champs once again! If not, it's time again for psycho-freak-out-talk time until the next week! Packers 24 – Miami 10

---
Week 6: 10/17/2010, Vs. Dolphins – Lose 23-20



Phrase that sums everything up:

All things considered ...





Summary and thoughts:

The Packers just can't seem to play a dominant game of football for 4 straight quarters. "You can't blame injuries" is an often repeated phrase in all sports. How that became a catch phrase and a continual thing that all athletes say is beyond me. You CAN blame them because in all sports, no matter the age, one person is always better than another person.

For example, my only dream while growing up through high school was to be a professional baseball player. The problem was, when I graduated high school I was 5'10 and a skinny scrawny 130 pounds. I have pretty much NEVER hit puberty in my life to this day! I'm 31 years old and I have to shave once a week. Twice if I'm motived! In 9th grade, I remember being in a science class with my friends and three of the four people around me said they shaved about 2-3 times a week. Ok, that was 1993. It's 2010. I STILL haven't got to that point in my life! Well anyway, sports-wise I could hit good (though not for power), field good (nothing ever got by me in the infield), and had a rocket arm for my puny-feeble-skeleton-like arms. Problem was, I wasn't developed enough to make it as a professional. However, if you say you can't blame injuries, could you honestly say that during the annual high-school baseball championships in the nation that "I" could fill in if the short-stop got injured? NO, because one person is always better than the other. That's what makes sports interesting! In 1997, Lance Berkman was picked in the first round (I quick googled that to find a good comparison in 1997). To say that if he got hurt I could go in and play UP to his level is just ludicrous! You have to take injuries into account. You can't expect the skinny scrawny 17-year-old Kramer to fill in and play up to the level of a Lance Berkman.

The same applies in the NFL. The replacements

ARE NOT

going to play up to the same level. It's basic facts. It is what is it. The list below is just off the top of my head (OK, I cheated and peaked at packers.com)! C'mon! That's

13

people. OVER 50% of the starters on the field! It's not even counting the players that DID play that played at less than 100% (Rodgers, Woodson, Clifton, etc..).



Ryan Grant, Clay Matthews, Mark Tauscher, Jermichael Finley, Atari Bigby, Morgan Burnett, Derrick Martin, Al Harris, Nick Barnett, Brandon Chillar, Justin Harrell, Ryan Pickett, Mike Neal



Holy crap, that's practically the

WHOLE TEAM

!!

To say that anybody can just go in and that no matter what that player should be just as good is simple-minded dream-world gibberish. I never listen to the radio. Never. The only time I listen is after Packer games so I can listen to Bill Michaels in the call in show. I've learned a great deal of my knowledge by listening to him. I give him all the props in the world!

So, back to the "all things considered" phrase that sums everything things up...

All things considered ...for having over 50% of their starters out due to injury, the Packers' players played their hearts out until the very end and stood toe to toe with THIRD and FOURTH sting players playing vs. starters of an above average Miami Dolphins team.



All things considered

...without Jermichael Finley and with Donald Driver banged up, Greg Jennings stepped up and had a great game.


All things considered

...without Mark Tauscher, the running game effectively moved the ball (the play calling, another story).


All things considered

...3-3 isn't THAT bad. As I mentioned last week, there is no dominant team in the league. Except for maybe the Pittsburgh Steelers.


All things considered

...and

most importantly

, the team has

NEVER QUIT

. I've read on www.jsonline.com and heard in the call in show that other fans are placing blame on Mike McCarthy and Ted Thompson. That's a shame. Really... it is! If you take away 2-3 plays in all 3 losses, the Packers have been in position to WIN all 3 games. To me, that is a testament to Ted Thompson. The Dolphins ARE a good team. Hell, they beat the Vikings IN Minnesota earlier this year! The current Packer team I don't think would stand a chance IN the dome.

Other notes, Aaron Rodgers is looking like an above average quarterback. In fact, I think he's regressed a lot this year. His interception was a horrible pass. He takes his eyes off the field when being pressured and that usually leads to a sack. Coming into this year the media (as was I) was ready to hand him the MVP award. Currently, he's good. But, he's not single-handedly taking over a game and leading us to victory. Remember though, he's still young. He does remind me a lot of the early '90s when Favre was a young QB. He will grow. But right now, I think he's got WAY to much responsibility.

The running game was again not used effectively. The running backs HAD a good game. But, when you pass so often and never used them you remove play action. Not to mention, and I give Bill Michaels credit for this, on third down the Packers are almost ALWAYS in the shotgun and ALWAYS pass. The remedy I believe is to go back under center more and run some nice simple staple west-coast offense plays. Also, MORE bootlegs, roll outs, and waggles to create natural open receivers and first-down opportunities.

Finally, can we get a kick return PAST the 20 or 25 yard line? How the FUCK does Shawn Slocum STILL have a job? Again, horrible field position, zero quality returns, and the punting...PATHETIC. Hell, sign a 45 year old veteran punter. Anybody could do a better job than Mastay! PATHETIC! Honestly, when was the last time the Packers HAD a good punter? 1996?



Player of the game:

Greg Jennings. His big play and fourth down catch was critical. Props to one guy on special teams who always seems to make a good play, Korey Hall. Finally, Scott Wells had some GREAT blocks during the game!





Least valuable player of the game:

With all the injuries I really can't fault anybody. But, from a pure man vs. man standpoint, rookie Brian Bulaga got his ass handed to him. Rookies, especially first-round draft-picks are expected to produce immediately. Brian Bulaga definitely did NOT.

Also, Charles Woodson had probably his worst game as a Packer. When he doesn't cause a turnover or make a big play, he definitely is an average man to man cover guy who can be beaten.

Ok, it's Tuesday night and I'm now finally able to make a prediction. Hopefully, Ryan Pickett returns Sunday night to bolster the middle of the Packers' defense against Adrian Peterson. If he does not return, Peterson will run wild all night long and Brett Favre won't need to throw over 25 times the entire game. The forecast calls for rain and Brett Favre is just too old to handle the elements anymore. So, if it comes down to running game vs. running game, the Vikings definitely prevail. With the injuries putting out over 50% of the Packers' starters this year, I don't think they can match up physically against the Vikings. Vikings 27 - Packers 14. Yes, I hope I'm wrong!

---
Week 7: 10/24/2010, Vs Vikings – Win 28-24



Phrase that sums everything up:

SUCK IT VIKINGS

(clap ..clap..clap clap clap)

SUCK IT VIKINGS

(clap ..clap..clap clap clap) ...(repeat over and over times infinity!).



Summary and thoughts:

Going into this game, I predicted a 27-14 loss because I thought that the Vikings were physically better on the ground against the Packers. WOW, I was wrong! So wrong, it's taken me 24 hours after the win to get my thoughts down on this page. Plus, I've been lazy in posting my notes for the massive 5-10 people that actually read this crap! The second, third, and fourth string players played with a passion and energy level that showed wearing the green and gold to win isn't everything, it's the ONLY thing! This is win to enjoy and a time to be PROUD to be a Packer fan!

I was surprised to see no Cullen Jenkins on the field the entire game. I learned after that he injured his shin in pre-game warm ups. Therefore, the pass rush and run defense was in for quite the challenge. Not only that, Ryan Pickett never played. So, that leaves us with one above average interior defensive linemen to play the entire game. B.J. Raji did just that. A true IRON MAN on the defensive line! Last week, I heard that the person the Packers could least afford to lose was Clay Matthews. I take that back. Right now, it's B.J. Raji. Without him, the D-line would be in shambles and teams could run up the middle for hundreds of yards a game!

The defense won the game. Pure and simple. Not only that, our

PRE-SEASON

defense literally won the game. On the Desmond Bishop interception returned for a touchdown, it doesn't happen if C.J. Wilson doesn't pressure Favre and make him make his bone-headed throw! So, on the pick-6, you had a second string LB, and a third (heck, fourth) string DL step up and make the big play against future HOF QB Favre AND WR Moss!

HELL YEAH!!

If you would have told me in the 1990s and 2000s that I would jump up and down yelling in happiness that Favre THREW an interception AGAINST the Packers, I would have thought you insane!

Offense was excellent and I attribute that to success in STICKING to the running game. The idiots who after week 3 were calling for some shmuck off the street free agent RB to be signed look even more idiotic now that Brandon Jackson has had success! Rodgers looked excellent. So much so, he looked EXACTLY like FAVRE! Making amazing throws, then horrible completely missed back-shoulder throws, and 2 bad interceptions. But, he did what he had to do for us to win. NONE of that mattered though without how great the offensive line played! ALL 5 of the guys on the line played AMAZING! The battle of the trenches, though favoring the Vikings on paper, was won by the Packers!

Special teams was steady. Just one return early in the first quarter. But, other than that, dependable. I would like to see a young speedy and energetic return man acquired. Patrick Lee averages about 20 yards a return. That is pathetic and the Packers will not get far in the playoffs without a dramatically improved special teams return game.

Charlie Peprah has filled in excellently for a third string safety (assuming Bigby as first string and Burnett as second string). He steps up and tackles with impunity on running plays! Great to see. Getting Bigby and Harris back will provide depth for the rest of the year. Speed is lacking. But, in the Packers' system, speed doesn't seem to be that big of a necessity for the defense to dominate.



Player of the game:

The ENTIRE offensive line and defensive line! Hell, Desmond Bishop, C.J. Wilson, Charlie Peprah, even A.J. Hawk could have got it from an individual standpoint. However, I give it to the line play and battles won in the trenches!

But, remember, the team is playing with second, third, fourth, and even fifth string players that played at a level that matched the Viking's first stringers! Who do we have to thank for finding this talent and keeping an up-tempo killer energy level going the entire game?

TED THOMPSON AND THE ENTIRE COACHING STAFF!

Really, look at all the unknowns who play at such a high level! Ted Thompson is the man PUTTING THE PIECES TOGETHER!

Fans are very eager to jump on Ted Thompson and Mike McCarthy after a loss. But, when the team wins, they get little recognition compared to that given to the players who made the winning plays. Therefore, as insignificant as this page is, I give them

ALL THE CREDIT IN THE WORLD

for this win! The ultimate testament to this is effort. Especially by John Kuhn on making a crucial 4th and 1 on a second effort! Compare that to the Vikings, who with at least 3 future HOF players on offense and three time outs to go in the first half just chickened out and went to the half. I would HATE to be a Vikings fan at this time!



Least valuable player of the game:

Again, I should have changed my title format after week 1 because the LVP is not even a player!

I'm not one to yell at officials much. But, after this game, you just have to wonder if they GIVE A SHIT at all!

For instance, there were 4 borderline touchdown calls the entire game.

The officials BLEW all 4 calls!



The Andrew Quarless TD. He did not have control of the ball and did not stay in bounds. The ref is standing right there and calls it ... TOUCHDOWN!!!

When it wasn't!

Vikings player steps out of bounds at the 1 and 1/2 yard line. The ref is standing right there and calls it ... TOUCHDOWN!!!

When it wasn't!

The Shiancoe TD. When the tip of the ball clearly hit the ground and assisted with the catch (of all 4, I fault the refs the least one this one). Again, the ref is standing right there and calls it ...TOUCHDOWN!

When it wasn't!

Third to last play of the game. Favre hits Harvin in the back of the end zone. Here's the ultimate "WTF ARE YOU LOOKING AT" bad call. The ref is standing right there within a YARD from the receiver! Not only that, on the replay, you can see the ref STARING at the guy's feet which are ON the out-of-bounds line. Rather when make the right call, the bird-brained ref again stands up and goes ...TOUCHDOWN !!! BIG SURPRISE!!!

WHEN IT WASN'T!

Whoever that ref is, should be fired immediately and sent to the UFL for officiating REHAB! For the most exciting game of the year so far in the NFL, they sure hired some idiot officials for this one!

Next Week:

The Jets are currently one of the top 3 teams in the league. The Packers I would rank in the top 10 AT BEST. On paper, this match-up favors the Jets. The hangover from Sunday night lasts too long and the Packers can't recover. The third and fourth string players who played above-average ball come back down from the happy-high cloud and return back to reality. Sorry to say, but I'm thinking after week 8 the Packers are a .500 team. BUT, considering the injuries and total incompetence of the NFC this year, that's NOT TOO BAD! Jets 24 - Packers 17. I'll say it again, I hope I'm wrong!

---
Week 8: 10/31/2010, At Jets – Win 9-0



Phrase that sums everything up:

DEFENSE !!!



Summary and thoughts:

If you are a fan of high scoring games with little to no defense this was definitely NOT the game for you! If you would have told me this game would have ended 9-0, I would have said you were crazy and that the score would be 9-0 in favor of the Jets. But, WOW, I have never seen a game like this one. Just a very WEIRD game! The defense, simply put, played like champions. Also, penalties were low and discipline was

PERFECT O

!

The Dom Capers' game plan was simple, make Mark Sanchez beat you. He didn't. But, he didn't really cost the Jets the game. The Jets, literally, handed this game right to the Packers. What stands out most was the 2 "interceptions" by Charles Woodson and Tramon Williams. I'm not certain on the rulings of duel-possession and maintaining the catch. But, both interceptions turned out in the Packers favor. I would think there are two interpretations of which both are right depending on which rule you want to implement. On both interceptions, the receiver was going to the ground. Therefore, if you read the "catch" rule correctly, the receiver has to maintain possession after hitting the ground. The receivers did not and instead the result was an interception. But, if you go off of the duel-possession rules, a reception goes to the offense. Therefore, you could interpret both plays to be duel-possession catches resulting in the receiver being down by contact once hitting the ground. I simply do not know what rule supersedes or takes precedence. Hopefully, the NFL will verify this more in the week ahead. Until then, I will definitely let the breaks go our way!

The fake punt in the 1st quarter by the Jets was one of the most risky calls I've seen all year. If it works, you tip your hat to the Jets and go back out on defense. If not, the Packers are already in field-goal range. If you're going to try a fake punt, you might as well do it against the Packers considering how pathetic our special teams has been. But, Anthony Smith made a great tackle on the punter to prevent the first down from being made. Again, thinking back to last week, a great challenge by Mike McCarthy!

Defensively, there isn't much to be said other than the game was a

DOMINANT

performance. All phases of the defense, the DL, LB, and secondary all played a top-notch game. Everybody hit hard and played great. The only thing I would question is whether or not I severely over-rated the Jets offense. Their drops were horrendous!

Special teams was excellent. In fact, going with Tim Masthay as the punter at the end of the pre-season finally paid off today. He had a GREAT game. He punted the ball and setup the defense in excellent field possession the entire game. On a low scoring game, field position is as good as points on the board. Thus, as much as special teams have sucked the past two years, I give them credit today. Again, one kick return went past mid-field. But, all others were stuffed after hitting the first level of kick coverage. Korey Hall again was at the bottom of the pile on several returns. Props to him once again!

Offense, much work to be done! First off, zero touchdowns, zero established running game, zero established passing game. But, I give credit to Aaron Rodgers who managed probably his best game. Every throw he made was a perfect pass. If it wasn't perfect, he threw it in a spot where only the Packer receiver would make the play. The problems continue in play calling and (in my opinion) play DESIGN. Any resemblance of running a west-coast offense is non-existent. In fact, the Packers have probably the purest version of the spread offense in the NFL. The problem is, it's not putting points on the board. In college football spread offenses, teams create misdirection on EVERY play. The play-design of the Packers is TOO SIMPLE. Too many basic fly routes, stop and goes, back-shoulder throws (which are not working this year), and curl routes. What is NEEDED is natural picks, horizontal passing, play-action throws, short throws to the tight-end, short throws to the backs out of the backfield, and mostly a primary TARGET receiver. But again, none of that happens without keeping at the running game to keep the defense guessing. It's a given, it doesn't fool ANYBODY, and it doesn't keep a defense guessing when EVERY SINGLE TIME it's 3rd down the Packers are going from the shotgun and PASSING! Hello? Draws? Screens? Actually, just RUNNING IT for a first down? Finally, the drops continue. James Jones drop was a missed TD. Also, Driver and Jennings also had drops. I must give credit to Jordy Nelson though who caught great third-down passes and had a great game!



Player of the game:

The

ENTIRE DEFENSE

. Especially, Tramon Williams. If the season ended today, I would give the Packer player-of-the-year to both Clay Matthews (for obvious reasons) and Tramon Williams. Williams has been dominant, lights-out, hard hitting. Props again to the greatest third-string safety I've ever seen, CHARLIE PEPRAH! Who again, he one of the best tackling safeties I've seen since LeRoy Butler in his prime!

Now, time to give credit where credit is due, who do we have to thank for all of this? TED THOMPSON! Not to mention, Dom Capers who had a masterful game-plan!





Least valuable player of the game:

NONE!

I can't fault anybody. The offense needs work but there is no individual who had a bad game this week.



Next Week:

Cowboys have been an embarrassment. Next week, at home, prime-time, and before the bye-week, the Packers MUST take care of business and KICK THE COWBOYS WHILE THEY ARE DOWN. Jon Kitna is an embarrassment at QB. There is no way he beats the Packers unless he has the best game of his life. I don't see that happening. In fact, going in to the bye week, I think the team fires on all cylinders and kicks the crap out of the Cowboys. In fact, I still hate the Cowboys from the mid '90s when they always beat the Packers in the playoffs by their dirty play. Remember? Reggie White, at the end of the game, with injuries on his face from being face-masked the entire game without the officials calling anything? I hate Dallas! Not as much as I hate the Vikings right now. It's a riot watching both teams struggle this year! I would write more on that but this is a Packer review and not an NFL review. So, in conclusion, I hope the dagger gets driven down next Sunday by the end of the first quarter! Packers 35 - Cowboys 13!

---
Week 9: 11/8/2010, Vs Cowboys – Win 45-7



Phrase that sums everything up:

KILL WITH POWER !!! DIE!!! DIE !!!

Yes, that's lyrics from the 1984

Manowar

song "

Kill With Power

" off their "

Hail To England

" album.

As you read below, you will read about my lifelong amount of angst and hatred towards the Dallas Cowboys. Their defeat, is reminiscent to me of an army fighting in battle for victory in ancient times!





Summary and thoughts:

I HATE the Cowboys! The represent all that is evil in the world! Well, that is other than Republicans but that's another story for another time! In short, the Packers are owned by their fans. A collective ownership that represents community, collective responsibility, passion, and PRIDE. The Cowboys are owned by Jerry Jones, a megalomaniac billionaire with an endless ego! To me, it's GOOD VS. EVIL when the Packers play the Cowboys!

I think back to the 1990s. In that decade, the Packers would always play the Cowboys in the playoffs. From the dawn of the Mike Holmgren era until the glorious Super Bowl championship in 1996/1997, the Cowboys always won and won in suspicious fashion. When I think back on those games, three things stood out the most.

The officials ALWAYS called the game in what seemed like a 5-1 penalty ratio for the Cowboys.
I have not forgotten and NEVER will forget, SUNDAY, January 14th, 1996. NFC Championship game. The Packers are one win away from going to the Super Bowl. But, they need to defeat Dallas IN Dallas. I remember it like it was yesterday. The Packers lost the game 38-27. The vivid memory that sticks out is Reggie White continually rushing Troy Aikman but getting held by Erik Williams with hands to the face on nearly EVERY pass. Yet, the officials never called it! The Packers were eliminated from the playoffs. Yeah, they did win the Super Bowl the next year but never had to play Dallas in the playoffs. After the game, Reggie White even blasted the Cowboys in the post-game interview showing the INJURIES to his FACE from the Cowboys DIRTY play!
Finally, on nearly EVERY SINGLE pass thrown to Michael Irvin, he would push off the defender and it was NEVER called! He cheated big time and got away with it. Not only that, his after-touchdown dance was just annoying to always watch!

It was then, in the 90s, my deep-seeded hatred to the Cowboys developed! Well, I guess you could count those aforementioned points as well as the fact that they beat my second favorite team (Buffalo Bills) in the Super Bowl a thousand times!!

The Cowboy hatred was previously satisfied for me individually in 1997. Sunday, November 23rd, 1997. I'm at the game with my friend from high school. I'm sick as a dog before, during, and after the game. It's the third quarter and the Packers are beating the crap out of the Cowboys. Soon, fans in the section I was seated in noticed Jerry Jones was sitting right above us in the box seats! I looked at him, saw him, and promptly (along with other fans)

FLIPPED HIM THE BIRD!

Soon,

EVERYBODY

in the section was turning around flipping him off and chanting "Jerry, Jerrrrrrrry, Jerrrrrrrrry" !!! Security was called and a Lambeau security officer game up to respond the the raucous. When the security guard learned what was going on, he LAUGHED and walked back down to the concourse! Within about ten minutes, Jerry Jones left his seat and nobody in the section could locate his whereabouts. Soon, we saw him sprinting out of the Lambeau end-zone tunnel to join his losing team on the sidelines. After that, I recall Dorsey Levens taking the game over and running about 20 yards down the field with a feeble and weak Deion Sanders TRYING to bring him down. It was hilarious! It was indeed, one of the greatest games I was ever at!

THE FINAL was 45-17! Go figure, 45 POINTS! The same point total as last night!



So, thoughts from the game. There really isn't much to say other than THE COWBOYS SUCK! The Packers literally DOMINATED THE GAME from START TO FINISH! It was perfect!

In conclusion, my angst against the Cowboys and lifelong vendetta against them was redeemed again last night just as it was in 1997!!!

JUSTICE SERVED!

!!!!





Player of the game:

THE ENTIRE TEAM!

Nothing else needs to be said. We took a team in turmoil and on the break of total break down and snapped their neck! Individually, Aaron Rodgers was perfect. Clay Matthews, Charles Woodson, Charlie Peprah, Josh Sitton, Sam Shields, Chad Clifton,and James Jones played amazing!



Least valuable player of the game:

The entire Dallas Cowboy team! SUCK IT DALLAS! My high school alumni team, the Menominee Maroons, could have played with more intensity, focus, and dedication! Horrible excuse for a professional football team. Hell, their secondary didn't even TRY to tackle any Packer players almost the entire game! A disgrace and embarrassment to the game. I too noticed ,as Cris Collinsworth put it during the telecast, that their defenses are beyond all realms of predictable and beatable. Personally, I LOVE IT. I will never feel sorry for the Cowboys. NEVER!!!!



Next Week:

BYE WEEK. I'll have a prediction next week after I see the Vikings play the Bears. Until then, the team will get healthier. But, the schedule in the second half looks brutal! Hopefully, when the weather is horrible, the running game gets even better! I'm thinking a 10-6 or 11-5 final record will suffice for the playoffs. Hopefully, home field advantage can be obtained. Considering the injuries this year, I would hand Mike McCarthy and Ted Thompson coach of the year and executive of the year awards respectively for a job well done so far this season!



---
Week 10: Bye Week

No review of last week's game because there wasn't one! So, it's just the next week prediction. The Vikings are in a total state of misery. For having arguably the greatest QB in the history of the NFL and the current best running back in the league, their offense is pathetic. Honestly, from watching Brett Favre play this year, he's off on his throws. All he does is throw dump off passes, screen passes, and the occasional pass down the field. The problem is, almost all of his deep passes have been missing his receivers and getting intercepted.

Week 11 is really the ultimate litmus test to determine where the Packers are headed going into 2011. The Packers should come out and

strike down the heathen

against the Vikings. What worries me is history. Historically, the Metrodome is a total house of horrors for the Packers. If this IS to be a glorious magical year Packer season they will come out and easily handle the Vikings. If they lose, you have to question whether or not the club can continually overcome the injuries, inconsistent offense, and undependable special teams as the year continues. The key, running the ball a lot because the Vikings have not stopped the run all season.

This one is very tough to pick. But, I think the Packers pull it off. Once the 4th quarter comes, Clay Matthews sacks Brett Favre and causes him to need 2 stitches in his forehead. Then, we all witness for this second time this year, Brett Favre being carted off the field in the

fetal position

with 3 trainers holding towels to the scrape on his head!

Packers 31 - Vikings 17

---
Week 11: 11/21/2010, At Vikings – Win 31-3



Phrase that sums everything up:

DOMINANT!!!





Summary and thoughts:

I usually update this page the night of the game or the day after. But, this was such a dominant and great win I couldn't think of anything to type up!

Brad Childress fired after the game! Brett Favre played like total crap! Aaron Rodgers with 4 touchdowns!

Can you believe it? I predicted a 31 to 17 Packer win.

Go figure, they scored 31!

Not only that, the defense again was even better than I predicted! Only 3 points! LOL..Vikings SUCK!! YES !!!! I loved it!!



Player of the game:

EVERYBODY





Least valuable player of the game:

NOBODY





Next Week:

The Falcons are good at 8-3. Matt Ryan and Roddy White are definitely top-notch pro-bowl players. But, can anybody honestly name anybody on their defense? I'm sure I will recognize names come game time but I like our offense against their defense. Even more, I like our defense more than their offense. If the Packers lose, it will be due to ball control running by the Falcons. Tony Gonzalez over the middle matched up in man versus our LBs also seems to be a match-up not in our favor. Still, momentum and confidence goes a long way in the NFL. I think that's on the Packers' side.

Packers 28 - Falcons 17

---
Week 12: 11/28/2010, At Falcons – Lose 20-17



Phrase that sums everything up:

"The team that makes the fewest mistakes, WINS!!" That phrase was beyond all realms of significant in describing this game. Both teams played excellent, fundamentally sound, and smart football. I thought in the second half the game would probably come down to who has the ball last. Well, the Packers had the ball last but just ran out of time. The Packers' mistakes? Aaron Rodgers' fumble which was the biggest momentum killer of the season for the offense. Second, continual third down missed tackles by linebackers, corners, and safeties. Third, penalties and especially penalties on special teams. I can't really fault Matt Wilhelm for the 4th quarter face-mask penalty. If he DOESN'T grab the face-mask the guy takes it to the house. Which, of course, would have been a coup de grace (in my mind) for special teams coach Shawn Slocum.



Summary and thoughts:

I definitely under-estimated the Falcons. I didn't know anybody on their defense and I still don't know more than a handful of guys on their defense! But, they played absolutely mistake free football. Hell, Matt Ryan (who I've only seen play a few times) played close to a perfect game. He only threw 4 incomplete passes! His game reminded me of Kurt Warner's in the playoffs last year. Perfect execution of the game plan.

The entire game I kept waiting for the defense to get one of their classic turnovers to turn the tide and momentum. The problem is, it never came. Which, again, I would say is a show of the solid play by the Falcons. I mean, really, did they make ONE mistake at all the entire game? Yeah, a few personal fouls but nothing that cost them the game. They have the best record in the NFC at this time and to me they are definitely deserving of that title. For the Packers to go toe-to-toe with them at

THEIR

place definitely shows that the dedication and effort is still at 100% for the entire team. Teams like the Bills (they really need to circle the wagons better and learn how to win in OT), Cowboys, Vikings, and Panthers would only

DREAM

to make it that close, at their place, and at this point in the season.

I've come to the conclusion that this Packer team will live by the pass and die by the pass. If you can't run the ball, why even bother. The game today showed that philosophy has it's pluses and minuses. If you're defense can't get off the field and the offense passes every down it will be hard to win a championship. The thing is though, it

IS

possible to win a championship without a running game. Case in point, last years Super Bowl had two teams that showed run but obviously never counted on it to

WIN

games.

Listening to the call in show on the way back to Green Bay I heard a lot of idiot fans call in pissed about Mike McCarthy not challenging the Tony Gonzalez 4th down catch. For that, hindsight, could have, would have, should have is key. During live action, it easily did not look like he missed the catch. Fox, being as horrible with quick replays as possible, showed a bad angle and never got a good angle until 2-3 plays later. Can't fault the coaching staff for that. Honestly, the guys in the booth watching replays literally had about 3-5 seconds to inform if a challenge should be done. Other opportunities existed on that drive and previous drives to get the defense off the field. The Packers, were out-executed by the Falcons. One play never makes or breaks a game. To single out the loss on one missed replay (which probably might have not even been 100% conclusive) is simple-minded, idiotic-like, and bird-brained analysis of a game.

Final thought, getting to hear

Brian Billick

announce the game is excellent. To me, he's a number one commentator. Of course, my most hated commentator is the pussy

Joe Buck

! He is easily the dullest most unemotional robotic faggot announcer on the face of the earth. I say that with faggot having the meaning of douche-bag annoying and not in to homosexual insult type (it's 2010, that's what faggot means for most people nowadays). There's something that good commentators like

Chris Berman, Dicky V, and Bob Uecker

share. That is they all have a

PASSION FOR THE GAME

. Joe Buck has NO PASSION AT ALL! Troy Aikman also sucks as an announcer. His southern-boy redneck voice is beyond all realms of tolerable on the human ear. When I saw before the game we didn't have to put up with that pair, I was very thankful!!!



Player of the game:

Aaron Rodgers

. Other than the fumble, the 4th quarter comeback for a touchdown drive was beyond all realms of amazing. He's definitely the face of this team and the future and he proved it once again versus the Falcons.



Least valuable player of the game:

The one thing lacking the past 2 seasons and something that all championship teams ALWAYS have are GREAT special teams. Not average or pedestrian special teams but GREAT special teams. Like I've said many weeks before, special teams again gave the Packers ZERO field position. C'mon, the Packers took 3 kick returns out of the end zone and NEVER got it to the 20 yard line. A far cry from Desmond Howard, Allen Rossum, and Roell Preston of years past! With zero return threat, field position will continue to be a losing battle. I've called for Shawn Slocum to be fired before. Again, this week, I stand behind my claims. But, this far into the season it probably wouldn't happen until next year. So basically, "it is what it is" with special teams!

Other LVPs, the run-blocking. Yes, the running game wasn't used much because it's so feeble. But, on the 3rd and 4th downs, when only 1 yard was needed, it would have been nice to be able to just get 1 yard with a bruiser-type running back going over the best linemen. It definitely makes me realize how missed Ryan Grant is this season.

Finally, I recall often seeing the big mid-season pickup Howard Green being continually thrown around in the trenches and half the time getting up slowly off the ground away from the tackle.



Next Week:

The 49ers are not a good team. They have greatly under-accomplished after being a favorite in the off season to win their division. Their quarterbacks are nowhere close to comparing with Aaron Rodgers. Yet, this is the NFL and I think they will put up a good fight with the Packers turning it on late to pull away with ease. Next week, I think it will be a field-goal battle early with the red zone issues being remedied in the second half.
Packers 26 - 49ers 14.

---
Week 13: 12/5/2010, Vs 49ers – Win 34-16



Phrase that sums everything up:

Exactly as predicted!

Just like I predicted last week, the Packers came out somewhat slow but got things together to pull out a solid victory against a "should beat" opponent.



Summary and thoughts:

I've realized that after a nice clean victory I'm slow in updating this page because there's not as much to talk about! Simply put, the 49ers are a not a good team. They were a team that everybody in the nation thought we should easily beat. We did. Offense was excellent! Case in point, the 4th quarter drive that seemed to take up the entire quarter! A great example of Packer football in December on the

frozen tundra

of Lambeau Field!

Back in 2008 when the Packers made it to the NFC championship game, Ryan Grant came out of no where and became a great contributor when the cold weather hit. I see the same thing happening this year with James Starks coming out of no where and running it 18 times. Starks seems to always fall forward and hang on to the ball. He looks to me like a young

Eddie George

with a small amount of

Thurmon Thomas

in him. But, it was his first game. Thus, I'm not going to proclaim him the savior of the winter running game this early in December. I would say 2-3 more games will show if he's a work-horse or a great 1-2-3 punch addition with John Kuhn and Brandon Jackson.



Brandon Jackson

reminds me of a young Edgar Bennett. He's dependable (especially as a receiver), not flashy, and gets the job done. Of course, Edgar Bennett is the running back's coach and his tutelage of backs has clearly paid off in recent years with solid and hard-nosed running backs being productive.



Player of the game:

Aaron Rodgers

. Again, 3 touchdowns and almost 4. He proved he definitely belongs in rankings as a top 5 QB in the NFL. His deep passes were a thing of beauty and I could watch replays everyday for the rest of my life and they would never get old!



Least valuable player of the game:

The throw-back uniforms were the

ugliest jerseys I've ever seen

. A definite missed opportunity for the Packer organization. If they would have been good looking, tons and tons of retro-style throw-back uniforms could have been sold! Living in Green Bay for 10 years, I have yet to see anybody around town wearing the throw-backs! I would have been proud to buy one for the winter if they were cool! Instead, I've had the same fall/spring winter jacket going on 10 years! Yeah, I should probably buy a new winter jacket some year!



Next Week:

The Lions are not a good team. If Matt Stafford were healthly all year, they would be for sure be a better team. In the previous meeting this year, I commended the Lions' for having a great game plan. Of all the teams in the NFC north, other than the Packers, the Lions

fear me the most

because they play hard and their record is obviously not reflective of how good they have played this year. But, without a good QB, the Packer defense should have a field day in stopping the Lions. I'm putting a lot of faith in the defense this week. I believe we will see a dominating performance by the Packers. Then, they head into the hardest final three game stretch that I can remember. I'm gonna go with an easy Packer victory! Packers 28 - Lions 6. I would predict a shut-out, but I figure they'll toss up a couple field goals and nothing else!

---
Week 14: 12/12/2010, At Lions – Lose 7-3



Phrase that sums everything up:

Weaknesses Exposed

!!! Every problematic area or area of concern for the Packers hit it's pinnacle in this game. Everything that was suspect or a weakness was totally exposed in a gut-wrenching loss! The Packers were out played, out coached, and out executed by the Lions. Most importantly, they were out-physicalled at the line of scrimmage for the entire game!

I'm writing this one hour after the loss and the Bears are already losing 21-0 to the Patriots! It's possible the Bears and Packers don't win a game the rest of the year until the final game in January of 2011! Both teams have a hard schedule and both have many weak areas!



Summary and thoughts:

It's December. Whether or not a game is played indoors or outdoors, a running game is a

necessity

to win games. The running game simply did not exist. It hasn't existed all year! The Lions effectively ran the ball and they had balance and the ability to keep the defense guessing. As horrible as a game this was, the Packer defense proved that of all three phases of the game the only dependable area is their defense. The offense, the worst showing of the year. Special teams, suspect at times and respectable today in coverage. But, zero ability for a kick-return to go past the 50 yard-line. Hell, the 20 yard-line I consider a "good" return this year! When we needed a good kick-return the most (fourth quarter of the game), of course we returned the kick to the 12 YARD LINE! PATHETIC!!!

Aaron Rodgers getting a concussion was simply the end-all and worst-case-scenario. He is easily the person the Packers could

LEAST

afford to lose! I like the guts for going head-first to get extra hards. But, in doing so, you become more suspect to getting injured. Lo and behold, he gets injured! He had the first down so extra yardage wasn't necessary. Definitely should have slide feet-first. Hindsight is 20/20 though. He doesn't get hurt we think nothing of it.

Greg Jennings drop was a total embarrassment. If he makes that catch we are probably all celebrating victory! Andrew Quarless fumble was also

INEXCUSABLE!!!



Matt Flynn played like a back-up and showed why he's a back-up. He was rusty with throws but also made a few great throws. 3 of his passes stick out in my mind.

First

, the interception in the end-zone was inexcusable. He never accounted for the linebacker and the pick was a total momentum killer which kick-started the Lions offense.

Second

, the third down pass on the last drive looked like a kick-off the pass was so bad.

Third

, the final pass which was a total pathetic play call and pass! Short-yardage has been suspect all year and on the last play of the game throwing a bomb when you need one yard is one of the worst play calls of the year. I do not know whether or not that was the play-call or if Flynn just made a bad decision by throwing the pass. But, Matt Flynn did not produce and his mistakes and decisions were very costly. He played like a back-up and looked like a back-up. He showed no sign of ever being a future starting QB in the league.

If Aaron Rodgers it out for an extended amount of time, Graham Harrell should stay ready! Also, in the fourth quarter, a running play called to go to the right on third down and Matt Flynn runs left resulting in a four yard loss!

INEXCUSABLE!!!

At times, he looked ready. The decision in the pre-season to go with 2 unproven back-ups showed it's downside. Honestly, I see why teams like to keep veteran quarterbacks as a back-up. A veteran QB doesn't run the wrong way on a running play and most importantly

DOESN'T

make the throw over the middle without seeing the linebacker sitting

RIGHT THERE

ready for the interception! He didn't produce, he had flashes of being good but not enough to win the game or put points on the board. To put it simply, I was NOT impressed. Live by Aaron Rodgers, die by Aaron Rodgers.

Graham Harrell - GET READY!!!



The offensive line play was pathetic. Granted, injuries occurred and backups had to play (big surprise). The depth and tackle play was horrible. Chad Clifton did not play a good game and got beat continually off the end. The run blocking did not exist. Everybody on the line got beat on a continual basis!

Considering all the injuries this year and how good the Lions have played despite their record, I'm not that surprised of the outcome of this game. Hopefully, fans will not jump the gun and start calling for coaches heads. IT HAPPENS, teams lay an egg on occasion. Considering the injuries (especially to Aaron Rodgers), away crowd, the Lions good play this year, and the current structure of the NFL, this loss should

NOT

be a surprise!!!



Player of the game:

Nobody on offense !!! I'll give it to

Tim Masthay

though for a great punting performance! Hell yeah!!

I must say though, I give all the props to the defense. 7 Points is almost a 100% win chance and the game was loss. The defense again, was excellent!





Least valuable player of the game:

EVERYBODY!

Mostly, PLAY CALLING was pathetic. Zero running game. Zero movement outside of the pocket! When Matt Flynn DID roll out of the pocket the passing game WORKED! Yet, in the fourth quarter there were NO roll-outs! Not to mention, the HORRIBLE play calling on the final offensive drive! The ball gets moved down-field nicely and then on second down and short, A DRAW PLAY that goes NOWHERE!! Horrible call, hasn't worked the entire game. Hasn't worked all year almost and it killed the drive. The 4th down call and overthrown bomb to Greg Jennings was a prime microcosm of the season. Struggles in short-yardage all year, continual inability to effectively run the ball and run-block, and a pathetic play call!

Next Week: It isn't looking good for the final three games this year! The Patriots are probably the best team in the league. I'm not feeling too confident about this game. Especially, if Aaron Rodgers doesn't play. Then again, the Packer defense could hold the Patriots down enough for a few scores to win the game. My prediction, Patriots 24 - Packers 17.

---
Week 15: 12/19/2010, At Patriots – Lose 31-27



Phrase that sums everything up:

IF ONLY

!!! Damn, I wanted this victory. It would have almost assured the Packers a playoff spot because the Giants and Saints both lost. If only 4 or 5 plays went the other way in the Packers favor, they would have pulled off a glorious victory. But, it didn't happen! Things could have been worse!



Summary and thoughts:

The Patriots could have came out and obliterated the Packers as bad as they did the Bears the week before. They didn't!

Honestly,

NOBODY

I knew gave the Packers a chance. I DIDN'T and didn't expect the game to be THAT close. The Packers won every single statistical category but just didn't find a way to beat (arguably) the hottest and best team in the NFL.

A week prior, I was not impressed with Matt Flynn. But, after the Patriots game, my opinion has changed. He impressed everybody (myself included) with a GREAT game! A few mistakes here and there but for playing his first full game since college, that's expected. I give me a LOT of credit and he sure is making me do a full flip-flop compared to my review last week.

The running game was

EXCELLENT

. The blocking was THERE and I give the offensive line credit for keeping Matt Flynn safe and creating holes for all the backs to run though. BUT, IF ONLY, they could have came through when it REALLY mattered. FRUSTRATING for sure as each loss is beyond all realms of grueling and nerve wracking. BUT, VERY IMPORTANTLY consider the HISTORY (what my Bachelors Degree is in and which I take a great interest) !!! The Packers, at week 15, are a team of almost 50% BACK-UPS AND FREE AGENTS starting!!! For all the injuries and backups playing, I've

NEVER ONCE SEEN A LACK OF EFFORT BY ANY PLAYER

!!! YOU MUST, I repeat, YOU MUST give a lot of credit to the

ENTIRE COACHING STAFF

for instilling that attitude in all the players. Fans who blame the loss on Mike McCarthy are just simple-minded idiots who think they know a lot about the Packers and the game. You win as a team and lose as a team! There is NEVER ONE reason specifically why a team loses a game.

Compare the Vikings and Cowboys to the Packers this year. The head coaches of each LOST THEIR TEAMS and it showed with pathetic efforts and total embarrassing

ASS KICKING LOSSES

. If the Packers were experiencing losses in such a way as the Vikings and Cowboys did, I would look to bad coaching. THEY AREN'T! HONESTLY, if maybe ONE play goes in the Packers favor in all 6 of their losses this year they would be UNDEFEATED! All the games have been THAT CLOSE!!!

Now, lets look at the "

IF ONLY

" aspect of this game. Take

ANY

one of these away and the Packers would possibly win (in no order because I'm too lazy to go look at a time-line of the game and sort chronologically by quarter).


Charles Woodson MAKES the interception in the first quarter. That would lead to seven points OFF the board for the Patriots.
Nick Collins takes a better angle on the Patriots first score and makes the tackle instead of giving up the rushing touchdown.
John Kuhn scores on first down or second down and goal from the ONE yard line. 7 points instead of 3 would have made a HUGE difference!
Andrew Quarless doesn't drop or miss the two balls he missed.
If Dan Connolly, on something I've never seen before and never will see again, actually GETS TACKLED on the squib kick he picked up. Or, if Charlie Peprah takes him down instead of going for the strip at the 40 yard line.

SEVEN POINTS OFF THE BOARD AGAIN

. IF ONLY!!! On a side note, AGAIN special teams KILLS all momentum the Packers had. Going into the half, that was the ULTIMATE tide-turning momentum killer! INEXCUSABLE for special teams to NOT tackle the guy! Instead, to quote Matt Vasgersian, "

LIKE A RUNAWAY BEER TRUCK

" he takes it to the 4 yard line !!! Goodness!!! To be fair, I do give credit for the start of game on-side kick! Ballsy call that definitely paid off! But, in the aspect of "if only", PATHETIC!

If Eric Walden makes the interception on the deflected ball that is again a DRAMATIC momentum changer that leads to victory.
On the Tom Brady to Aaron Hernandez TD pass, Sam Shields was mismatched against a TE. Tom Brady saw it, audibled, and it was an easy TD time for the Patriots. I shouted to my TV and cat before the snap, CALL TIME OUT, CALL TIME OUT! If time out was called, a better match-up results which possibly stops the TD pass.
On the final Packer drive of the game. If Brian Bulaga KEEPS two blocks Matt Flynn gets off 2 throws. The way the drive and game was going, if he HAD time he had good passes. BUT, the final drive the blocks did NOT happen. To me, the offensive line was to blame on the last drive. THEY CHOKED. Versus a three man rush, they couldn't give Matt Flynn time! Also, with 23 seconds to go, EVERYBODY was in position to run the last play EXCEPT the offensive line who stood there with their

THUMBS UP THEIR ASSES

while precious seconds ticked off the clock. The line played great, but they COLLAPSED when it mattered the most. With 4 of the 5 offensive lineman being starters since opening day that is PATHETIC! Trent Dilfer said it best on ESPN after the game, the offensive line has CONTINUALLY been collapsing at THE MOST CRITICAL TIME of close finish losses. It's even exemplified more on the inability this season to convert on short-yardage situations.

When it matters most, THE OFFENSIVE LINE CHOKES!!! END OF STORY !!!



8 IF ONLYS !!! TALK ABOUT FRUSTRATING !!! Ghhhaaaaaa !!!!



Player of the game:

John Kuhn, Matt Flynn, Desmond Bishop, and Brandon Jackson

all played with a heart of a champion. Watching John Kuhn give second and third efforts and get important third and fourth down conversions was a thing of beauty. Bill Michaels said it best on the post-game call in show when he said that he was diving relentlessly at the Gatorade cooler to get a drink after his diving TD run! Through his effort, you see the FIGHT this team has had all season!



Least valuable player of the game:

Everybody mentioned above that missed an opportunity! But again, the biggest momentum killer was the kick-return by Dan Connolly. Thus, in homage to my previous weeks writings,

SHAWN SLOCUM

again FAILS miserably as a special teams coach with yet again another special teams gaff standing out in defeat.



Next Week:

I'm typing this a few hours before kick-off. This game is simply too close to predict! Therefore, I CALLED IT HERE FIRST !!!

17-17 TIE

AT THE END OF OT !!!

---
Week 16: 12/26/2010, Vs Giants – Win 45-17

Phrase that sums everything up:

KUUUUUUUUUUHHHHHNNNNN

!!! Enough said!!



Summary and thoughts:

Going into the game, I thought both teams were evenly matched.

WOW WAS I WRONG!!!

The Packers did what they have done all year. Kick bad teams when they are down! SIX TURNOVERS by the Giants were deadly and it showed they are a team definitely headed in the wrong direction. I see Tom Coughlin being canned at the end of the season.

The best part of the game was the ENTIRE STADIUM chanting in sync "

THE BEARS STILL SUCK, THE BEARS STILL SUCK!!

" I loved it!!

I've said it all year (go back and read this entire page if you want), but this team is

PURE 100% EFFORT

on every play! A testament to Mike McCarthy and the coaching staff! Hell, I'll even credit special teams coach Shawn Slocum for preventing the Giants from having a momentum turning kick return!



Player of the game:

John Kuhn

!! NOBODY signifies the image of excellent effort this year like John Kuhn! His leaping ability, second efforts, and enthusiasm are just the epitome of PACKER FOOTBALL!!! Also,

Aaron Rodgers, Greg Jennings, Donald Driver, Jordy Nelson, Clay Matthews, Charles Woodson, and B.J. Raji

all played amazing! I've never seen a player successfully strip the ball or try to strip the ball more than Charles Woodson. To me, FIRST BALLOT HALL OF FAMER! Also, another game where we see Clay Matthews vigorously chase after a defender and make a big play!



Least valuable player of the game:

Nobody really sticks out. But, I'll give it to James Jones for his dropped touchdown pass.



Next Week:

The Bears beat the Packers previously this season and it goes down as a loss. But, we all know that the Packers beat themselves that game! The miscues, penalties, and special teams blunders should be all cleared up. A win and the Packers are in the playoffs. I think this one EASILY goes to the Packers. Why? Because the

BEARS STILL SUCK

THAT'S WHY!!! Packers 34 - Bears 0!!!

I CALL A SHUTOUT!!! YOU HEARD IT HERE FIRST

!!!

---
Week 17: 1/2/2011, Vs Bears – Win 10-3

Phrase that sums everything up: The Bears Still Suck (big surprise) !!!



Summary and thoughts:

This was definitely one of the most boring games I've ever watched. It reminded me of watching a snooze-fest AFC game that always airs on NBC. You know, the kind of game that always seems to end 12-9, contain that horrendous NBC football organ music, feature continual commercials from the same ten global billion dollar corporations, and have zero action and big plays.

The Packers' special teams were better than the Bears' special teams! Can you believe it!? If you go back to the punter battle in training camp, the decision to keep

Tim Masthay

has been one of the best personal decisions by the Packers all year! His punts to pin the Bears deep in Packer territory were

AMAZING

! Not to mention, Jerrod Bush (as I've mentioned all year) again played GREAT special teams by making a great inside-the-five yard-line catch on a punt. In my opinion, the game momentum turner was the GREAT punt return by Tramon Williams! After that, the team sailed on to glorious victory! Can you believe it? The Packer special teams

CREATING

momentum! I must say, Shawn Slocum and the special teams unit did a fine job this week!

The big story this week was (again),

THE DEFENSE

!!! Jay Cutler, for the second time this year versus the Packers, played and looked even more drunker than ever! The two interceptions by the Packer defense were drive, game, and momentum killers for the Bears! Really, in the last few minutes of the game, I didn't think, I KNEW that the Packer defense was going to make a big play! Sure enough,

Nick Collins

came through with the game and playoff clinching interception! Also, even if Charles Woodson and Clay Matthews DON'T make plays, just their PRESENCE is enough to give opponents' offenses nightmares! Case in point, ERIK WALDEN!!!

This year, I believe we all

MUST

give credit to Ted Thompson, the front office, and the entire coaching staff. Not to mention the veteran leadership and team chemistry that exists the locker room. Really,

HOW DO YOU FIND a guy named ERIK WALDEN

out on the street and plug him into the defense where he produced beyond all expectation? I don't know the names of anybody in the scouting department but whoever they are they obviously DO A GOOD JOB!

The offense played horrible. I always remember being at games as a kid and my cousin telling me that when it's cold you have to cradle the ball when you catch it and

NOT

catch it with your hands. Case in point, Greg Jennings who dropped a TD pass with his fingers and then on the bomb cradled it with his body! Every week this year I've reminded people to never under-estimate the Bears' defense. It is a staple of their franchise and this week I definitely tip my hat to the Bears for playing hard the entire game when they had literally nothing to play for. I enjoy the Packer and Bear rivalry but if the Packers lose next week I will root for the Bears in the playoffs. I've never disliked them as much as I have the Vikings or Cowboys and I actually kinda like watching them! I will call it a mutual rivalry with a lot of respect existing between the two teams.

John Kuhn, the MVP last week, had four carries for

ZERO

yards. Brandon Jackson and James Starks also struggled for every single inch. Basically, that's a reflection on the offensive line who didn't seem to get any running game push down field the entire game. Aaron Rodgers again managed the game excellently in the bitter cold.

I just wonder, after week 17, HOW the hell does Aaron Rodgers and Tramon Williams

NOT

make the pro-bowl? Granted, Charles Woodson made the pro-bowl as a corner back. But, we all know he is pretty much a "rover" type defensive player who lines up more or less as a linebacker! Thus, his versatility and awesomeness puts a lot of pressure on Tramon Williams who time and time again he performs beyond all expectation! To me, the best cover-corner is definitely Tramon Williams. In fact, if the Packers didn't make the playoffs, I would have named Tramon Williams as the season MVP (I still probably will come elimination time).

I also must credit Sam Shields this year. For a rookie un-drafted free-agent, he's played all year matched up on nearly every down against TOP NOTCH wide-receivers! In all my years of playing Madden Football and watching NFL football, I find that the nickel back position is one of the most important positions in the game.

Sam Shields has been EXCELLENT

all year and I definitely hope to see him dominate come playoff time!



Player of the game:

ERIK WALDEN

!!! He stepped up and showed that if you double-team Clay Matthews you are going to pay! His play is a reflection of the Packer defense this entire season. A reflection where an injury created opportunity and a backup player arrives without the defense missing a beat!



Least valuable player of the game:

Brian Bulaga had all 4 penalties. He also struggled in protection and blocking it seemed. Granted, he's a rookie and will only get better. But, look at Erik Walden, he's got 90% less time in the NFL and he played GREAT! If you compare Brian Bulaga in 2010 to Ross Verba from the 1996 season, Verba was a rookie and he dominanted in his rookie year leading the Packers to a glorious super bowl win!



Next Week:

It's Sunday morning and I felt creative so I quick downloaded GIMP photo editor, a few cool vicious dog photos and a Michael Vick photo off of Google. Here is result that I quick conjured up! Hopefully it will represent how I feel about Vick and this coming game!!! My prediction, 35 to 13 Packers !!!

WIN ONE FOR THE K-9S!!!!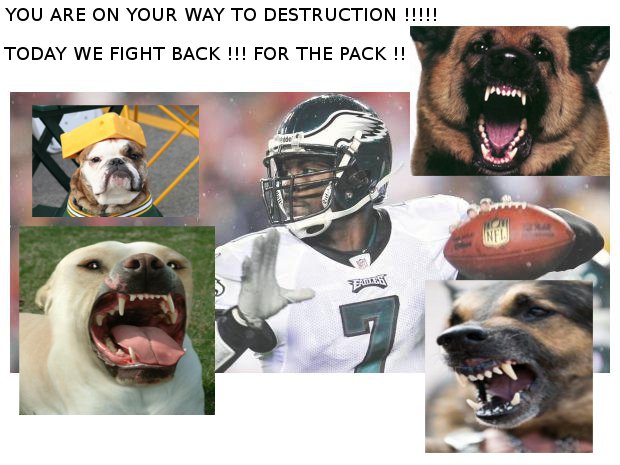 ---
Wild Card Weekend: 1/9/2011, At Eagles – Win 21-16



Phrase that sums everything up:

TAKE THAT YOU DOG KILLER VICK !!!



Summary and thoughts:

This was definitely one of the most enjoyable Packer wins that I can remember! Justice has been served! The dog killer Vick was put down in agonizing Brett Favre fashion with (as I've said all year) the team MVP

TRAMON WILLIAMS

coming up with the clinching interception! When he picked off Vick with under a minute to go, I jumped in glee and gave a banshee-like scream of enjoyment while high-fiving my mom!

After that, I turned around when Michael Vick was on the TV screen and gave it a proud two finger flip off!



As much as I want to enjoy the game, it had it's cardiac-pack moments! James Jones drop in the final minute of the first half was

AGONIZING

to watch! Not only that, Greg Jennings also had two dropped balls. The game could have easily been a Packer blowout. But, the old saying goes that good teams find a way to win and bad teams find a way to lose. Case in point, the Packers played an average game offensively but still managed to pull off the victory.

To me, the

MOMENTUM

was on the Packers side almost the entire game. IT ALL started on the opening kick-off. Jarret Bush has historically taken a large amount of criticism. Granted, he sucks in man to man coverage. BUT, as I've said previously, he is one of THE BEST special teams players on the team. On the opening kickoff he STUFFED the Eagles' kick-returner with a hard hit that set the tone. The next play, Desmond Bishop blindsides that

DOG KILLER VICK

and SETS THE TONE again for the day. Vick was hit hard and often the entire game by Clay Matthews and the Packer defense. Honestly, even dating back to the '90s championship Packer teams, I can't remember a defense as GOOD as this years.

Words cannot express how great of a job Ted Thompson has done with this team. Remember, this team is missing over 50% of it's starters and is 2 games away from the SUPER BOWL!!! His ability to find players (especially on defense) to come right in and get the job done is flat out amazing.

No doubt, he should be GM of the year. Hands down!



James Starks has impressed me a great deal at running back. Hopefully, the offensive line and Starks continue to impress next week!

Also, Desmond Bishop's shoe-string tackle of DeSean Jackson was AMAZING and hopefully is remembered for weeks to come!

Player of the game: We all know how great Charles Woodson has been. A definite future hall of famer. But, when he blitzes and plays at the line of scrimmage, that leaves opposing teams one and two receivers to be covered by somebody other than Woodson.

WHO ELSE would I give credit for other than the dynamic duo of

Tramon Williams and Sam Shields

! If you think back to the pre-season, you would have thought that Sam Shields would probably spend a year on the practice squad because he never played corner. BUT, can you believe it? He practically plays every down and nearly SHUTS OUT TOP RECEIVERS! AMAZING athleticism and (again) a GREAT job by the coaching staff, front office, and scouting department to FIND the guy!

Tramon Williams' interception of Vick I already rank up there as one of the biggest interceptions in team history! To me, I rank it up there in the Matt Hasselbeck playoff pick-6 by AL HARRIS! But, this one had more glory because Hasselbeck didn't torture and kill dogs! Yeah, he said in good fun "we want the ball and we are gonna score!" He's a former Packer and saying that and then throwing a pick doesn't come close to being an ex-prisoner for running a dog fighting ring! I love animals and I believe

the death penalty should only be legal for ANIMAL ABUSERS LIKE VICK

!!! OK...that's a bit drastic but what the hell!



Least valuable player of the game:

JAMES

"STONE HANDS"

JONES! His stone fingers and dropping easy touchdowns on perfect passes MUST END!!! If he made the catch at the end of the first half then the dagger could have already been delivered to the Eagles. What I don't understand is that he's a number three receiver and gets an awful lot of time on the local TV Packer show "Inside the Huddle" on Fox11. Perhaps he should focus more on

CATCHING THE DAMN BALL

inste

ad of preparing for his TV shows that he doesn't even deserve to appear on in the first place!





Next Week:

The winner of the game this coming Saturday night will be the NFC representative in the super bowl. I don't think the Seahawks and Bears can even come close to beating the Packers or Falcons at this point in the year. Atlanta is good and already beat the Packers this year. BUT, remember, during that game the Falcons got a few breaks and the Packers had untimely turnovers. With a newly discovered running game and dominant defense I have a good feeling going into Atlanta. Honestly, it could go either way. But, I bet the Falcons come out flat from their bye week and the Packers come out with a full head of steam ready to strike down to heathen!

If you look at the past few seasons in the NFL, the HOT team going into the playoffs usually makes it to the super bowl.

THEREFORE, I'M GONNA CALL IT A PACKER VICTORY!

Not only that, not even a CLOSE GAME! 42 - 14 PACKERS !!! Then, off to Chicago for the championship game!

GO PACKERS!!!



---
Divisional Playoffs: 1/15/2011, At Falcons – Win 48-21



Phrase that sums everything up:

I CALLED IT

!!!!!!! Can you believe it? SEE ABOVE!! I predicted a 42-14 victory and at the end of the third quarter that was the score! Really, did the 4th quarter mean anything with all the subs in? NOPE!! I quick snagged an image on the TV for a lifetime of evidence of my glory. Yes, I don't have much going on in my unemployed life so this was an enjoyable yet sad picture and personal victory!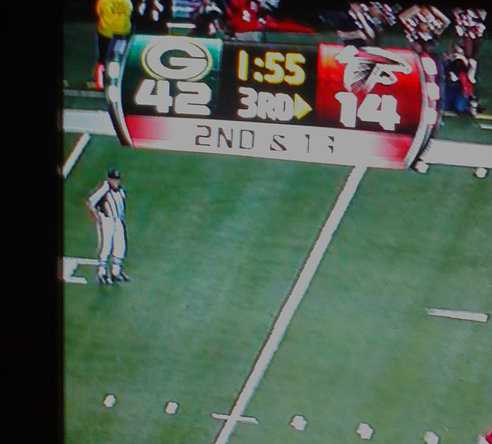 Summary and thoughts:

After the end of the first quarter the game was going exactly as expected.

EVERYTHING

that could go wrong

DID

go wrong! Turnover, missed tackles, and kick return for a TD! It was at this time I figured that it was a good run but the weaknesses were exposed and the game was over. WOW, WAS I WRONG!!



NEVER

did I expect to see what I saw transpire in the second and third quarters. Aaron Rodgers took control of the game and just

DESTROYED THE FALCONS

with the greatest game I've seen played by a QB since Kurt Warner against us last year in the playoffs!

GOODNESS GRACIOUS IT WAS INCREDIBLE

! The team just fired on ALL cylinders and tossed up 48 POINTS by the end of the game. Like Stephen Colbert says, "THE GUT NEVER LIES" and DAMN was that right! I had a gut-feeling going into the game that it wasn't even going to be close and the Pack was gonna blow the Falcons out. Lo and behold, IT HAPPENED!

Again, it's a total

SHAME

that Tramon Williams did not make it to the pro-bowl. HELL, he was

MY "TEAM" MVP

for the regular season and I honestly believe he should be in the running for LEAGUE MVP due to his outstanding play. Not only did he have the pick to clinch the game last week, he had 2 picks against the Falcons and the pick-6 at the end of the first half will go down in Packer infamy as

ONE OF THE BEST PLAYS EVER

!! Thinking back to the Vikings game, his pick of Brett Favre was ALL great instincts and reaction. Even Favre himself said so after the game! AGAIN, Tramon DID IT! A testament to a great year by a great player!!

Again though, this was a total TEAM EFFORT. You win as a team and lose as a team and as I've said all year, there NEVER has been a lack of focus or intensity. A TOTAL TEAM VICTORY... GLORIOUS!!!



Player of the game:

TRAMON WILLIAMS and AARON RODGERS

. But, again, everybody contributed to one of the greatest wins in Packer playoff history!



Least valuable player of the game:

Special teams has been an Achilles' heal all year and giving up the kick return wasn't good but it DIDN'T cost the team the game. The powerhouse offense dominating the Falcons in blitzkrieg-like fashion made up for special teams gaff.



Next Week:

I'll admit, I was a slacker and didn't update this until the week before the SB. I was at the dentist during the week prior to the game and when I was asked for a prediction I predicted a 24-20 Packer victory. Again, I was pretty close!!!

---
Championship Game: 1/23/2011, At Bears – Win 21-14



Phrase that sums everything up:

WE DID IT !!!!!!! YES !!!!!

"THE BEARS STILL SUCK, THE BEARS STILL SUCK, THE BEARS STILL SUCK!"





WE ARE GOING TO THE SUPER BOWL, YES!!!!





Summary and thoughts:

This definitely was not the prettiest of games. BUT, WE WON !!! Usually, I prefer to kickoff to start the game because getting the ball after half-time is somewhat like a turnover. I figured that the opening drive would be three and out until the crowd calmed down. I FIGURED WRONG! Aaron Rodgers kept hitting Greg Jennings on simple post routes and the running game matriculated the ball down field with ease resulting in a quick seven points! Rodgers was

EXCELLENT

until he took a big hit and struggled the rest of the game.

The story of the game was DEFENSE!!!

DOM CAPERS DID IT AGAIN!

He had a masterful game plan and the defense showed something new with Sam Shields blitzing off the corner. The new wrinkle WORKED and resulted in Jay Cutler putting forth one of the most embarrassing performances in NFL championship game history! Todd Collins looked completely lost on his four throws but the third string guy Caleb Hanie actually looked pretty good. So much so, if the Packers would have lost the game he would have been an instant celebrity!

I figured going into the game that if we made the Bears one-dimensional and took away the run we would win it. SURE ENOUGH, Cullen Jenkins and B.J. Raji

DOMINATED

the interior line!

Special teams though practically WON the game for the Packers! Can you believe it? The weakest aspect of the team subject to the most criticism played GREAT! Devin Hester who? Obviously, we all know for sure now, THE BEARS STILL SUCK !!!!



For certain,

THE GREATEST PLAY OF THE GAME was the B.J. RAJI pick-6! Hell, that was practically the PLAY OF THE YEAR! Not only that, while I was out in Green Bay Tuesday night at Top Hat having some drinks,

GUESS WHO SHOWED UP? NONE OTHER THAN B.J. RAJI HIMSELF

!!! I shook his hand and told him that his play was the highlight of my YEAR! Not only that, I asked him if he was nervous when he was holding out the ball PRIOR to crossing the goal line. He replied that he was for a little bit until he saw the ref toss up the touchdown sign! So yeah, it DID enter his mind and I learned that directly from the source! I also told him about

my brilliantly conceived chip-shot field-goal-miss-strategy

that if the game was on the line the entire field-goal block team should NOT even get out of their stances! To me, it would confuse the kicker and opponents into thinking a whistle was blown or timeout was called. Then, he would miss the kick or not kick it at all! He informed me that he figured the kicker would just kick the ball. So, I'm thinking that strategy will not be passed on to the coaching staff. BUT, if it ever happens and WORKS, you heard it here first!



Player of the game:

JERRETT BUSH AND TIM MASTHAY

!!! Jerrett Bush has taken a lot of criticism over the recent years for his below average coverage skills. BUT, to me, he's the BEST special teams player on the team and

INVALUABLE

as a kick and punt coverer. Go back to the opening kick off to start the post-season.

THE TONE

was set and the journey to the Super Bowl set in motion with his HUGE HIT on the Eagle returner. We all know that the Bears' greatest strength is their special teams returners. This game was arguably won BY the Packer special teams! Tim Masthay put

EVERY SINGLE PUNT EXACTLY

where they should go. Devin Hester was a TOTAL NON-FACTOR by the precision punting and punt-coverage. In the winter chill, field position is akin to a touchdown or field-goal. Special teams

DOMINATED

the game! I

DEFINITELY

give a LARGE amount of credit to special teams coach Shawn Slocum for special teams being better in recent weeks.

Least valuable player of the game:

NOBODY

!!! WE ARE GOING TO THE SUPER BOWL!!!

Next Week: I can't decide right now, I will definitely decide prior to the game and jot it down here for the 1-2 readers a month that actually read this page!

---
SUPER BOWL XLV: 2/6/2011, Vs Steelers
There is nothing left to say or review! WE WON THE FUCKING SUPER BOWL !!!!!!!!!!


WE DID IT !!!!!!!!!
---

E-mail or FB me for questions.